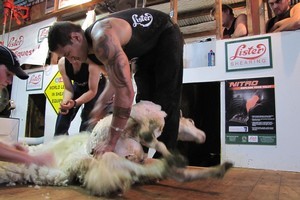 King Country shearer Stacey Te Huia yesterday smashed the world eight-hour ewe-shearing record at Moketenui Station, between home-town Te Kuiti and Benneydale.
Te Huia came back from a failed bid last January to shear 603 sheep despite torrential rain outside and a 40-minute power cut.
Te Huia, 32, bettered the record by 25 held by Far North shearer Matthew Smith.
Te Huia missed-out by five sheep in a bid for the record just four days after Smith's January effort, and said yesterday that while at the time he did not want to think about another record, he had waited 11 months to get the record back in the family.
Older brother Hayden held the record at 495 for nine years after a day's shearing at Marton in 1999 when the pair set a two-stand record, which ironically is being tackled by Smith's brothers, Doug and Rowland, at Te Pohue, on January 11.
Te Huia said back troubles had limited his serious training for last summer's attempt to about four months.
A power cut had lines contractors racing the 20km to the woolshed to replace a pole fuse in the run to the finish.
"I wasn't worried at all," said Te Huia, who had started at 7am and posted 146 sheep in the first two hours to morning smoko, three down on Smith's opening run 11 months ago.
But with 39 in less than half an hour just before the break he was into a groove in which he remained.
He set a run record of 152 in the two hours to lunch, going one better with 153 after the meal, and coming home with another 152 to the eventual finish at 5.40pm.