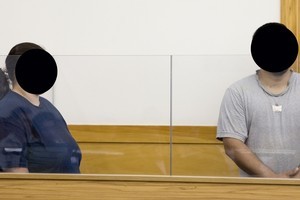 A couple accused of torturing their nine-year-old daughter appeared briefly in court this morning.
The West Auckland girl was found by police hiding in a wardrobe in November, with injuries to almost every part of her body.
Her parents face more than 35 neglect and assault related charges between them.
The woman also faces two charges of assaulting another child, aged 7, with a table leg and an unknown weapon.
The couple appeared briefly in the Waitakere District Court this morning and had their name suppression continued to protect the identity of the victims and their siblings.
They will reappear in court this afternoon for a bail application hearing, which Judge Lisa Tremewan described as "a live issue".
The man, who faces three charges and was "a less significant player", had previously appeared before the court under a different name and had breached bail, which police needed time to consider.
The woman, who faces 33 charges, had yesterday declined to be interviewed by a forensic nurse but seemed fit to appear in court, which police also needed to take into account when considering bail, Judge Tremewan said.
Detective Sergeant Megan Goldie said earlier today that the nine-year-old was receiving psychological and other specialist treatment and was likely to need regular counselling for the rest of her life.
The other children would also need counselling.
"Such is the severity of the injuries endured by the nine-year-old victim that the police investigators and others who have been associated with the inquiry have all been affected by what they have encountered," she said.
Sex abuse allegations
The Herald can reveal that a member of the nine-year-old's family has been charged with sexually abusing her.
CYF head Bernadine Mackenzie said last night the alleged sexual abuse happened while the girl was living with extended family.
She was in CYF custody at the time.
Ms Mackenzie said the allegation was "deeply distressing".
The family had been involved with CYF, a family support agency, a registered ACC counsellor, a court-appointed psychologist, the child's court-appointed lawyer and a child and youth mental health service.
"Sadly, the primary focus of most of this professional engagement was not based on concerns she was at risk in her home," Ms MacKenzie said.
"Rather it was to help the young girl and her family work through the sexual abuse she had suffered while previously living with close family caregivers."
"Along with other professionals, we believed the family was genuinely engaged in achieving that goal.
"It appears we have been terribly misled and this has had tragic consequences."
Several people had deliberately concealed the ongoing abuse in the girl's home, said Ms MacKenzie.
She assured the public that a full review of the case was being done and would be given to Social Development Minister Paula Bennett.
CYF will also investigate claims by the girl's teacher that reports of abuse by the school were not investigated.
In an email to Prime Minister John Key, the teacher said she reported her concerns about "constant abuse" the girl was suffering to school management on a "weekly, almost daily" basis.
But the message the school got back from the child's social worker was that she was "clumsy and accident prone".
Mr Key forwarded the email, sent six days after the girl was found and her parents arrested, to Ms Bennett.
"I have grave concerns about issues raised in the letter, including the fact the teacher says she made others aware she suspected abuse was occurring," Ms Bennett said.
"It must be incredibly heart-breaking to be closely involved with a child who has been the victim of such horrific abuse.
"I have asked for a full report on this and I intend to get to the bottom of the matter."
In her email, the teacher said she felt powerless to do anything to protect the girl and keep her safe.
"This child has come to school with black eyes, a swollen face, swollen nose, bruises, abrasions and infected wounds that have all been explained as her being 'clumsy and accident prone'.
"However she is only accident prone at home, she has not had a so-called accident while at school ...
"Why do we have to wait for a child to be seriously injured or killed before action is taken?"
The teacher said the emotional toll of seeing the girl suffer all year was "extreme". She had resigned from her job because she felt her concerns were not taken seriously.
"A young innocent child has suffered unimaginable pain that at her age she should not have suffered," she told Mr Key. "Please don't sit back and do nothing."
Ms Mackenzie said CYF records indicated the school did raise concerns, and that on one occasion a physical injury was reported.
"This was looked into by the social worker who did not believe this to be a result of abuse."
"I find the issues raised by the teacher very worrying and am determined that the review gets to the bottom of exactly what happened."
- With NZPA