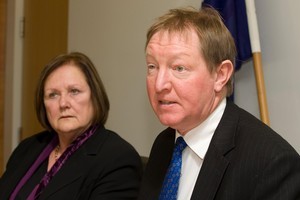 The Government will seek a mandate from voters next year before allowing private insurers to compete with ACC for a slice of the $743 million a year workplace insurance market in a plan bitterly opposed by Labour, the Greens and unions.
Accident Compensation Corporation Minister Nick Smith yesterday confirmed his decision "in principle" to allow competition in the workplace insurance market following his lengthy consideration of a "stocktake" of the scheme begun last year but completed in June.
But while the stocktake recommended ACC exit the workplace insurance market as part of the "significant structural reform" it saw as necessary to ensure its long-term sustainability, the Government rejected that advice.
Dr Smith said if the Government proceeded with the plan ACC would offer workplace insurance in competition with private companies.
"This policy of choice is the best way to put pressure on ACC to provide effective and efficient workplace accident cover," he said.
The Government would consult the public on the "significant and complex reform" next year. But while the plan was welcomed by Business NZ, Federated Farmers and also Act, which pushed for competition to be considered as part of the stocktake, it was panned by Labour which, within a year of coming to power in 1999, reversed a similar move by the previous National Government in 1998.
Labour's ACC spokesman David Parker said New Zealanders would end up paying more for workplace insurance but would receive less coverage under the plan, "as private insurance companies will have to make a profit".
The Greens' ACC spokesman Kevin Hague said part privatisation of ACC would result in reduced, unfair and uneven support for accident victims while the Engineering, Printing and Manufacturing Union said the changes would allow "a massive transfer of wealth from the Government to private insurance companies". Bank workers union Finsec said those profits would likely flow offshore.
But Insurance Council chief executive Chris Ryan welcomed the proposal as "a positive and constructive move".
Even the short period of competition in the late 1990s saw considerable reductions in premiums for employers and significant improvements in workplace safety, he said.
Officials would also investigate introducing private sector competition in other ACC accounts such as the earners and motor vehicle accounts.
Dr Smith said "experience rating" would be introduced to the Work Account from next year which gives employers discounts and penalties of up to 50 per cent on levies depending on their history of workplace injuries.
As well, the Accredited Employers Programme, which allows employers to take responsibility for workplace insurance cover was to be extended.
AS IT STANDS
ACC's Work Account:
*Covers all work-related injuries.
*Is funded from levies paid by employers and the self-employed.
*Collected $743.5 million in levies during the year to June.
*Paid out $320m in claims.