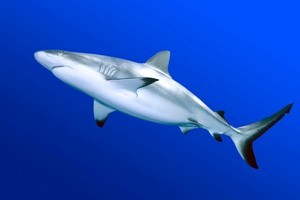 Warm early summer seas around northern New Zealand are attracting increasing numbers of sharks.
Sightings have been reported off Tauranga, and one marine expect says sharks are probably present off most sandy coastlines.
Department of Conservation marine scientist Clinton Duffy believed sharks were looking for food or to drop their pups.
Mr Duffy said sharks could be present anywhere in the upper half of the North Island where there were sandy open swimming beaches.
"The Rangitoto channel, the Waitemata Harbour, the Motuihe channel, Tamaki through to Thames, all up around North Cape, Ninety Mile Beach, Raglan, Piha, Muriwai, everywhere."
He advised: "I would say to people that if you see a shark in the water, get to the beach quickly and quietly without drawing any more attention to yourself than you already have."
Angler Campbell Carter told the Bay of Plenty Times he had never seen so many sharks off Tauranga, where makos, threshers, bronze whalers, sevengill and even the occasional great white shark could be found.
Mick Forrest, who runs the fishing guide company The F Spot Tauranga, had an encounter with a shark last week while fishing for snapper about 5km from the Tauranga Harbour entrance.
"I was bringing up a barracuda when I saw it suddenly come up out of the depths and attack the barracuda."
Seeing the 2m mako suddenly emerge from the deep and attack the fish was a "scary experience".
Mr Forrest also believed sharks were roaming closer to the beach this year, and said mako sharks could be caught as close as 100m to 200m offshore.
He was catching an average of two bronze whalers each day from Papamoa Beach.
Mount Maunganui resident Diane Rogers stepped into the water to photograph a pair of sharks up close when they came within metres of shore near Oceanbeach Rd this month.
Once was about 2m, and the other was about 1.4m.
"I had never seen them that close before, so I went in my clothes to try to get a picture of one of them," she said. "My kids thought I was crazy.
"Maybe fishermen had been gutting fish on the beach and that attracted them in, I don't know."
This month, Seaton Rolleston from Mount Maunganui was on his stand-up paddle board near Rabbit Island, about 30m from the beach, when he saw a grey shark he said was about 3m long.
As he turned and headed for land, he saw three more sharks swimming below him.
- APN
For more articles from this region, go to Bay of Plenty Times