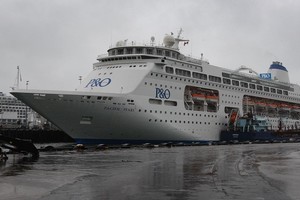 They say renaming a vessel can bring about bad luck. And the Pacific Pearl liner - formerly the Ocean Village - has got off to a slightly rocky start.
The 63,500-tonne P&O ship will be formally relaunched today in a ceremony at Queens Wharf in Auckland.
But the event comes after a passenger had to be airlifted from one of the decks and taken to hospital yesterday.
About 10.45am, crew of the Westpac rescue helicopter were alerted to a passenger suffering from a serious condition on board the ship.
Crewman Mark Cannell said the Pacific Pearl was between Little Barrier Island and Great Barrier Island.
"She was on deck eight and we put a paramedic on there. Her Glasgow Coma Scale wasn't that flash."
GCS is a neurological scale medics and doctors use to give a reliable measure of a person's conscious state.
"We put her on a stretcher and winched her to Mechanics Bay, where we were met by an ambulance," Mr Cannell said. "She was transferred to hospital as a status two - that's pretty serious."
On Sunday, the Pacific Pearl was formally welcomed to Auckland by members of the Ngati Whatua tribe in a ceremony at Queens Wharf.
The liner - which is the largest ship to call New Zealand its home port - will be officially renamed today by its "godmother", Olympic boardsailing gold medallist Barbara Kendall.
Superstitious boaties claim certain rules must be followed when renaming a vessel. First, the old name and anything on board that carries it, including log books, charts, lifebuoys and oars, must be totally removed, not just painted over.
Nothing with the new name should be taken on to the vessel until it has been de-named in a ceremony that includes pouring a bottle of champagne over it as an offering to the sea.
The renaming ceremony can then follow, with most waiting at least 24 hours before giving the vessel its new moniker.
The Pacific Pearl arrived in Auckland after a multimillion-dollar refit in Singapore, where it was totally overhauled, with new restaurants, bars and lounges created, new soft furnishings installed and a total revamp of the poolside area, including the addition of a giant entertainment screen.