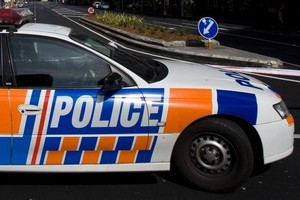 The identity of a long-serving police officer who bashed his fiancee can now be revealed.
Dushkar Kanchan Singh was convicted on charges of violence and perverting the course of justice in November 2008 but his name was kept secret as he appealed.
More than two years later, the Supreme Court has refused his bid to overturn assault convictions.
Singh was a sergeant in Auckland and resigned in December 2008 after 17 years. The violence charges that ended his career stemmed from his relationship with a woman who can be referred to only as Ms D.
The couple were engaged shortly after they met in early 2006 and lived in his home. Not a New Zealand citizen, Ms D was on a visitor's permit and dependent on Singh's sponsorship.
Between March and September 2006, the Crown alleged, Singh assaulted her 17 times. She fled to a women's refuge for a fortnight, before returning home.
The Crown said Singh beat her again. Ms D kept living with Singh until he was arrested in October 2006 and charged with 19 assaults.
But the pair continued to see each other, and lived together again.
The woman tried unsuccessfully to have the charges against her fiance withdrawn. She told police she would not give evidence and did not turn up to court for trial in February 2008.
The case was adjourned and Ms D lodged a sworn affidavit seeking privilege against self-incrimination. She told the judge evidence given at an earlier hearing, including diary entries detailing the assaults, was false. If she was forced to repeat the evidence in court, she might commit perjury.
The trial went ahead and Ms D denied her earlier evidence and was declared a hostile witness. A number of her previous statements were used by the Crown. But other documents the defence lawyers wanted were ruled inadmissible by the trial judge.
Singh was found guilty of five assault charges, forgery and perverting the course of justice. He was sentenced to two years and eight months in jail.
The Court of Appeal quashed the forgery charge but the Supreme Court last week declined his final appeal.
Singh's appeal challenged the trial judge's rejection of Ms D's claim of privilege against self-incrimination, refusing to admit the additional documents and the fairness of the trial.
The Supreme Court unanimously rejected the grounds for appeal. "When she gave evidence, she repudiated - unconvincingly - her own diary entries, what she had told the police and her sworn evidence ... Victims of domestic abuse - and for reasons which are readily understandable - sometimes act in this way."
FAMILY VIOLENCE
A number of organisations are ready to help. If it's happening now, call 111. Otherwise contact the following organisations:
* Women's Refuge 0800 REFUGE (0800-733-843) 24 hours.
* SHINE (Safer Homes in New Zealand Everyday) 0508 DV HELP (0508-384-357) 24 hours.
* It's Not OK! Family Violence Information helpline (0800-456- 450) 9am to 11pm.
* Contact your local Citizens Advice Bureau for information about other services such as budgeting advice, overcoming gambling problems and combating drug and alcohol abuse.