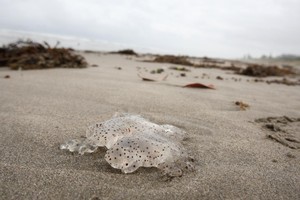 An influx of jellyfish on Western Bay of Plenty shores has prompted a warning from authorities to be aware when getting in the water.
The Bay is experiencing the peak of "jellyfish season", which has meant enormous clusters of breeding jellyfish have inundated shores. .
Ministry of Fisheries officer Gary McAneny said a flight last week reported " masses of jellyfish close to the shore line".
"There were hundreds of millions out there en masse, as far as the eye could see in all directions."
Mr McAneny said people need to be mindful if going for a swim, "especially little children who don't know to look out for them".
"They still pack a punch.
"Anyone with a low immune system like elderly or very young people - they don't want to come into contact with a tentacle.
"It could shock them and cause issues depending on how badly they react to toxic poisons."
Divers were also prone to being stung, Mr McAneny said.
Niwa scientist Dr Dennis Gordon identified the "spotted jellyfish" as Desmonema gaudichaudi, and said people should do their best to avoid them.
"If it happens make sure there are no tentacles left on the skin and flush it out with lots and lots of sea water."
Many jellyfish lost tentacles by the time they washed ashore but could still sting if touched on their underside, Dr Gordon said.
"If one has vinegar on hand, that could be used too."
Dr Gordon said that when the water warmed, the jellyfish started breeding and the offspring took advantage of the plentiful spring plankton blooms and grew large.
- APN