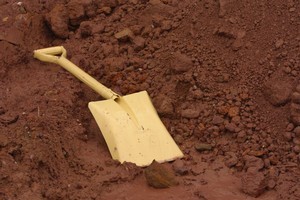 Well I see that Deborah Coddington is back on top of me again - and, to be honest, that's the way I like it. But on the downside, with her being more conscientious, bordering on a nerd, she filed her column prior to deadline and took up all the page space, leaving me no option but to improvise and do something a little shorter and punchier.
So, in keeping with the spirit of the holiday season, this week I have contracted Kwon, the guy who runs the Asian bakery next door, to ask me a series of questions about my Christmas and summer.
1. What are your plans for this summer?
Mind your own business. Seriously, though, I am going to stay pretty close to home and the immediate section. I would like to go to East Timor to do some charity work in February but to be quite honest I doubt if I will actually get around to it.
I have a lot of jobs to do round the section including the exhumation and relocation of some buried pets.
They say "a puppy is not just for Christmas" but in our case a couple of years ago it would appear that it actually was. It got run over by a maxi taxi on Boxing Day. The other pets died from natural causes.
2. Who are you spending Christmas Day with and what will you be doing?
I'm spending Christmas Eve with my family and a lady friend from Hamilton.
3. What's your favourite summer memory? Did you have family holidays as a child?
I don't really have a strong one because when I was young I suffered from what is known as summer amnesia for about seven years after a freak water-skiing accident in Palmerston North.
Once I got my memory back I went through a bit of a bad patch, thanks to my parents' pyramid scheme running out of cash and collapsing. They weren't insured and neither was the home it collapsed on, so the memories for the next few years were not very happy, and then I discovered alcohol which made my university summers a little hazy. From what I remember I then had a few good summers, but then I was hit by a maxi taxi while walking my dog and I ended up in a coma for two summers.
The last couple have been great, though; I have a vague memory of a family camping trip and a New Year's Eve in the Coromandel. I would like to think most of my good memories are still ahead of me.
4. What's the worst thing about the summer holidays for you?
The worst thing just before Christmas are all the silly holiday questionnaires from women's magazines, newspapers and "pull-outs" you get asked to respond to.
All the questions and answers are so cliche and I don't really think anybody else really cares what you are doing over the holidays, or what you are having for Christmas dinner, anyway.
This one is OK because I instigated it, so I knew what I was going to be asked and could be prepared for it.
5. What's your new TV show beginning on New Year's Eve?
Well, basically it is a best of Moon TV, the early years. Kind of a festive repackaging road trip with a twist and a spin. There are six episodes beginning on TV3 at 9.30pm on New Year's Eve. Definitely one worth cancelling your party plans for. If you don't have MYSky, drop us a line and I can tape it for you. ( I was only talking to Kwon there, not the entire country, but DVDs are available at www.moontv.co.nz).
6. Didn't it used to be a TV2 or TVNZ show?
Yes it did; funny that.