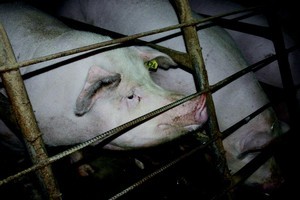 'Tis the season for ham and pork crackling - but animal welfare groups are warning foodies not to be fooled by products carrying the "PigCare" seal of approval.
The blue label pictures a healthy looking pig and the words "PigCare Accredited", and is being rolled out on packaging on selected pork, bacon and ham this week.
But Save Animals From Exploitation director Hans Kriek said the label was no more than a "PR exercise" because farms using sow crates and farrowing stalls came within the accreditation standard.
"If you're concerned about factory farming then this label doesn't help you," Kriek said.
"People will be fooled. They see a stamp of approval and think the meat will be ethical. But effectively it only means the farm complies with the code of welfare, and that's the same code everyone is upset about."
PigCare Accreditation is given to farms that opt into NZ Pork's voluntary audit programme and comply with the minimum standards set out by the Animal Welfare Act 2005.
So far 123 farms have been audited and just eight have failed. The identities of the failed farms remain under wraps by NZ Pork.
And meat from Kuku Beach Rd Piggery - featured in Mike King's 2009 television expose of alleged cruelty - will carry the PigCare label, despite its continued use of sow crates.
But while factory farms embrace the new gimmick, genuine free-range farms are refusing to be part of the scheme. Freedom Farms co-founder Gregor Fyfe said the label was "virtually meaningless". "It would be easy to look at it and wrongly assume it means no sow crates," he said.
"Consumers ... want a cruelty-free product and they are prepared to vote with their purchasing dollar. This PigCare label will confuse a lot of those people."
Freedom Farms' ham, bacon and fresh pork products are available in 90 per cent of the country's supermarkets and carry the SPCA Blue Tick - extended exclusively to farms with cruelty-free operations.
Fyfe said the pigs on his farms were allowed a high quality of life before they ended up on the dinner table. "They are able to display all the natural behavioural patterns. They form social groups [and] race around outside." Freedom Farms product costs about 20 per cent more than the same products from New Zealand-based factory farms, he said.
SPCA chief executive Robyn Kippenberger also said the PigCare labelling was "deceptive".
"The pork industry continues to fudge the issue of how meat is produced," she said.
"It's just rubbish. The public need to know that unless the packaging says 'free range' or 'free farmed' the animals will be intensively farmed, under great stress and pressure."
Kippenberger said the audits were a step in the right direction because they ensured minimum standards were adhered to. "But it doesn't help the fact the pigs are being incarcerated," she said.
NZ Pork chief executive Sam McIvor defended the PigCare Accreditation concept. "We've made it clear in our communication [to retailers] just what the label stands for. Our recommendation is the retailers clearly label the product."
When asked if the label itself should contain a clearer message, McIvor said: "There's only so much you could put on a label."
Sow crates and farrowing stalls, which restrict the movement of pigs after mating and birth, are permitted under current animal welfare laws.