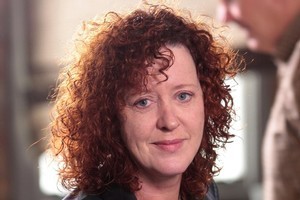 At $240 an hour, the job offers one of the best pay rates in Auckland - and any bloke could do it lying on his back.
Former MP Pam Corkery and her business partner Rebekah Hay began advertising this weekend for male prostitutes to work in Pammy's, her "world-first" private women's club opening early in the new year.
Corkery and her unnamed backers were spending more than $6 million fitting out a historic Auckland building with bars, a dance floor, spa, 14 themed rooms, VIP suite, an orangery, and a discreet parking area and entrance way.
They have already headhunted two experienced madams from other Auckland premises, and have begun hiring female security guards - former police and SAS personnel. Security would, said Corkery, be "uber-tight".
And yesterday, she advertised in the Herald for men to work in "the world's first legal bordello - including bathhouse and bars - exclusively for female clients."
Corkery said that since she announced her plans, 700 men had expressed interest on Facebook.
Once the hopefuls have been shortlisted, a "panel of celebrity women" would choose the successful applicants - although Corkery did not say how they would be chosen.
The men would work as subcontractors, doing shifts in the bar, around the dancefloor and in the 14 rooms. Those rooms would be named after historical queens and princesses, such as Nefertiti and Helen of Troy.
"Women are incredibly discerning," she said. "They want beautiful decor, they want their men trained in everything ... This is a place for women who have never been treated the way they should be."
The building, on St Benedicts St overlooking Spaghetti Junction, was being extensively renovated under the supervision of Julie Stout, from Mitchell and Stout Architects, and a member of the Mayor's Task Force on Urban Design.
Corkery has engaged sex therapist Wellington Michelle Mars to train the "boys".
"Most men don't upskill. They tend to stick to the same old techniques ...there are exercises for boys with performance issues," Corkery said.
She was adamant there would be demand from Auckland women for Pammy's services. "They said the same thing about the vote - women won't vote, only men do that. Women won't drive, women won't want their names on the title of the house - well, you know, they do.
"And we have convinced our chief financial backers that women do have sex drives."