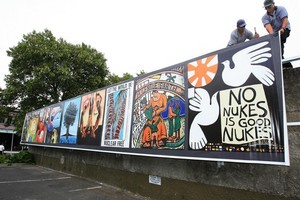 New Zealand's anti-nuclear legislation was influenced by wanting to cut defence costs as well as by ideology, a cable between Wellington and Washington claims.
The 2004 cable is one of thousands released by the WikiLeaks website and is headed "What we could not say in the mission programme plan", the Dominion Post reported.
"We have been told by retired [government of New Zealand] officials who were in senior positions in the Lange government at the time the anti-nuclear policy was instituted that one of the considerations favouring the policy was that it would lead to New Zealand withdrawing or being pushed out of Anzus, thereby lessening the country's defence spending requirements at a time of fiscal and economic crisis," the cable from the United States embassy in Wellington says.
The cable also notes an attempt by the Labour government of the 2000s to move away from the traditional American and Australian influence in the Pacific by favouring China and France.
"In laying groundwork for the visit of Chinese President Hu, the Clark government privately mooted that it was necessary for New Zealand to work more closely with other powers such as China and France to curtail US and Australian influence in the region," it said.
"During the visit of the Chinese Vice-Minister for Trade, New Zealand Trade Minister Sutton publicly claimed that China was New Zealand's most important and valued trading partner, a claim that left Australian officials here scratching their heads in wonder."
New Zealand's defence spending was criticised as being too inadequate to cover even "replacement costs for basic coastal defence hardware" and the defence force as having not enough troops to for effective peacekeeping operations.
Our contribution when asked for defence help in the Solomon Islands was outlined in the cable and did not appear to stack up with others in the region: "New Zealand's initial offer was to keep an army company 'on reserve' in New Zealand. Meanwhile, Fiji sent 400 or so troops.
"Finally, after great pressure from the Australians, the [government] relented and agreed to send troops. After all that, according to the Australian High Commissioner, due to an equipment breakdown, the troops had to be flown to the Solomons on Australian aircraft."
- NZPA