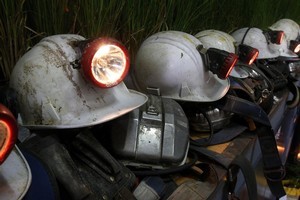 Bernie Monk knew his son was dead as soon as the Pike River Coal mine exploded on November 19.
But there are others who are still clinging to hope that their loved ones are buried alive in the remote South Island mine, one month after a methane gas explosion ripped through the shaft.
"I know of one lady that doesn't accept it yet," said Mr Monk, whose 23-year-old son, Michael, died in the disaster.
"There's no body, therefore he's still alive. They've got to get evidence back to her."
Rescue crews are still working at the coal mine, trying to stabilise the atmosphere inside so that recovery efforts can get underway.
But at least five violent blasts have erupted since the initial explosion and an Australian machine is chugging away in a bid to extinguish a blaze that's been burning inside for weeks.
Families are hoping they will have something of their loved ones to bury, but Mr Monk thinks "very little" remains of the 29 miners, among them two Australians.
"They're talking about 600-degree heat, probably more," a tearful Mr Monk told AAP.
"I've talked to undertakers and stuff like that (asking them) what can we expect?
"They said that things can still be there after 1000 degrees - let's hope something like that can happen."
Mr Monk, a hotel owner, has lived in Greymouth for more than 50 years.
His son had been working as a contractor at the Pike River Coal mine for four months, after switching from a career in carpentry.
"Like most young blokes you can't stand in their way," Mr Monk said.
"He was just sick of building new houses, he said, `I just need to get in to something else'.
"He enjoyed it, he enjoyed the work.
"He had mentioned (the dangers)."
As soon as Mr Monk heard there'd been a blast at the mine, Mr Monk expected the worst.
"I wasn't hopeful," he said.
"I know my son. He was young, he was fit, he was strong.
"Two guys got out of that explosion, very luckily, only because of where they were, and I knew if my son was alive he would have got out, and I knew that in my heart.
"To try and convince my wife that - no way. She wouldn't hear of it. But I did say it to her.
"If they got out it would have been a bonus for me. I would have been one of the happiest men in the world."
A week after the blast, the Monk family held a memorial for their sporting son, on what would have been his 24th birthday.
A month on, Mr Monk said he was lucky to get a couple of hours sleep a night and was trying to keep himself busy, most recently adding the role of spokesman for the deceased miners' loved ones to his job list.
Recent receivership of Pike River Coal Ltd means the grieving families also have money matters to worry about, but police and the NZ government promise recovery efforts will continue.
"Families are coming to terms with the fact that it's going to take months," Mr Monk said.
"(But) I don't think there'll ever be closure," he said.
The widow of entombed miner Milton Osborne was in tears as she told Radio New Zealand about her grief this week.
"It still hasn't sunk in because most people, when they lose a loved one, have their bodies," Anna Osborne said.
"They can bury them.
"We have nothing at the moment.
"It's still hard to believe he's not coming home.
"It's just so hard to believe he's dead.
"He went to work that morning, we didn't even get to say goodbye.
"He's gone, but we haven't got him to bury."
- AAP