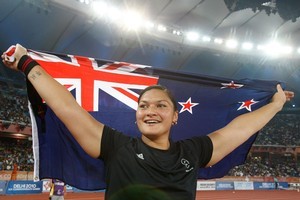 The hunt for New Zealand's top young sporting talent is under way.
The New Zealand Herald's Future Stars awards is the on-going chance for the rising sporting stars to impress the judges and, in many cases, to launch their international careers.
Many of the Herald's award winners have gone on to be acclaimed in other New Zealand sporting awards, including the Halbergs.
Among the 200-plus young sportsmen and women are many household names, including Valerie Adams, Rob Waddell, Sarah Ulmer, Martin Crowe, Chris Dickson, Ramesh Patel and Brian Turner.
Since the inaugural awards started as the Junior Sports Awards in 1968, a wide variety of sports have been recognised, including rugby, rowing, soccer, cycling, athletics, league, hockey, tennis, swimming, yachting and netball, and less-widely played sports including archery, mountainbiking and croquet.
Last year champion jockey James McDonald was among the winners.
Disabled athletes have also had their efforts recognised.
Open to any New Zealander living in New Zealand and aged under 20 on December 31, 2010, the awards recognise outstanding achievements in the past year.
Details to be considered by the judges should include the time and place of the performance(s). Applicants must also give date of birth, address, contact number and any details relevant to the performance. Applications should be endorsed by a coach, parent or school principal.
The six winners, their parents and coaches will be guests of the Herald at a presentation lunch where they will receive $1500 training grants and other gifts.
There is no official entry form but applications should be sent to New Zealand Herald Future Stars, PO Box 32, Auckland 1140 or emailed to futurestars@nzherald.co.nz. Applications close on December 31.