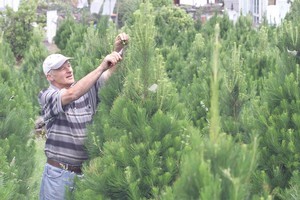 The other day we were marvelling that there is a Christmas tree plantation in the middle of Mt Eden. Could you tell us a little more about it?
John Flack and Sale Teo, Auckland.
The Misa family has been growing Christmas trees in Balmoral Rd since the early 1940s, on a piece of land that was once a poultry farm. The block of 1.2ha originally supported macrocarpa, but as demand grew the Misa family switched to radiata pine. This site grows more than 3000 trees, and a further 15,000 are grown on a block at Glenbrook.
Brothers Tom and Carl Misa started the business after demands from American servicemen in Auckland wanting presents for their sweethearts.
On several occasions recently I've noticed drivers with their arms out of the car window when the vehicle is in motion. The arms are in various positions but the drivers are obviously not signalling. Is this legal? I understand that in Australia you could be liable for an instant $200 fine.
And apart from causing an accident, you could also be encouraging skin cancer.
Jack Norton, East Coast Bays.
I can find no reference to this practice being illegal, but it is certainly discouraged. The old mantra is, eyes on the road, hands on the wheel.
I have a question about turning left at traffic lights, in particular where there is a specific left-turn filter, but all left-turn arrows are blank, whilst the straight-ahead (or right-turn) are red. The intersection I have in mind is at the top of Franklin Rd, when the right-turn filter is red to allow Ponsonby Rd traffic through, but the left-turn arrows are all blank. (I believe that there are also blank arrows to turn right down Franklin Rd as well, from memory.) Coming up Franklin Rd, can I turn left and head along Ponsonby Rd, or must I wait until all arrows are displaying green?
Stuart Mullin, Auckland.
At any light-controlled intersection, you may only move off if you have the appropriate green signal. You may never drive off against a red light.
As I remember, at the top of Franklin Rd, you get two shots at turning left - one where all or both lights are green, and immediately after that phase, when there is a left-turn filter which is green while traffic from Ponsonby Rd turns right into Franklin Rd.
At pedestrian crossings, what is the thinking behind cars being allowed to drive straight into the path of pedestrians crossing on a "green man" or a blinking "red man"? I have been hit once, had several near-misses and been blocked off by cars countless times.
Graham Barker, Auckland.
The thinking is quite simple - lack of courtesy, lack of knowledge or adherence to the road rules, and sheer pig ignorance. If the green man is on, the other lights at the intersection must be red. You may not drive ahead on a red light. If the red man is blinking, you may move ahead only if the way is clear, ie, there are no pedestrians or other vehicles in your path. As for blocking the path of pedestrians, that too is proscribed. But when did that stop anyone? Bah humbug.
* This is the final Ask Phoebe column for 2010. I apologise to those whose questions have not been answered in the column. A combination of too many questions and too few responses from council staff has contributed to this.
Best wishes for a happy festive season and a safe and prosperous New Year.