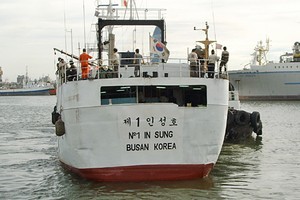 Five people are dead and 17 missing after a Korean fishing vessel sank in the Southern Ocean early today.
Twenty survivors have been rescued, the Rescue Coordination Centre New Zealand (RCCNNZ) says.
Five fishing boats - two of them New Zealand and three Korean - are assisting in the search for survivors.
The RCCNZ was advised at about 1pm today of the sinking of the Korean-owned and operated No.1 In Sung, which reportedly sunk at 6.30am, about 1000 nautical miles (1850km) north of McMurdo base - or 2,700km south east of Bluff - inside New Zealand's search and rescue region.
The vessel is a 58 metre long-liner. The 20 survivors and 5 deceased are on board the fishing vessel No. 707 Hongjin.
It is not known at this stage what caused the vessel to sink or why no distress communication was received prior to it sinking, says the RCCNZ.
RCCNZ has called on nearby vessels in the area who are assisting in the search.
This includes the New Zealand fishing vessels Antarctic Chieftain and the Janus. Three Korean fishing vessels are also helping.
A Royal New Zealand Airforce Orion may also be sent to help in the search, but its estimated time of arrival would be at least 8 hours from the time of leaving New Zealand.
Weather conditions in the area consist of light westerly 10 knots, and a one metre swell. Sea temperature is 2C. Survival times in the water are about 10 minutes without lifejackets or immersion suits, says RCCNZ.
A coastguard spokesman in the southern South Korean port of Busan, where the ship is based, told AFP there were eight Koreans, eight Chinese, 11 Indonesians, 11 Vietnamese, three Filipinos and one Russian on board.

View Fishing boat sinks in Southern Ocean in a larger map
- NZ Herald staff