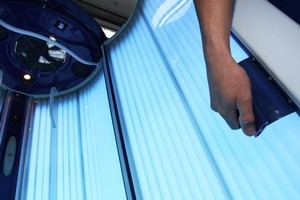 Calls have been made sunbed industry to be regulated after a survey found only 10 per cent of outlets meet the voluntary criteria for safety.
Consumer NZ carried out a mystery-shopper survey on 69 sunbed outlets across the country and found only seven of those met the voluntary standards. The survey included fitness centres, hairdressers and beauty therapists.
The criteria requirements includes skin assessments, consent forms, eye protection and warning notices.
"Unfortunately New Zealand has a voluntary standard for sunbed operators. It includes informing clients about the dangers of UV radiation and providing goggles for eye protection.
It also requires that sunbed operators say "no" to high-risk groups - especially people with very fair skin, and those under the age of 18," the Cancer Society's skin cancer adviser, Dr Judith Galtry, said.
The voluntary standard simply wasn't legally enforceable and the Government needed to act to regulate the industry, she said.
Green Party MP Sue Kedgley said Consumer New Zealand's was the latest in a list of surveys that had found the voluntary code was not being adhered to.
"There can be no excuse for inaction now we know operators are not sticking to their own code," Kedgley said.
"New Zealand has one of the highest melanoma rates in the world. If the Government is serious about reducing this extremely serious public health problem, we must introduce a legally enforceable standard for the use of sun beds, including health warnings."
The National Institute of Water & Atmospheric Research (Niwa) has looked at UVR levels of sunbeds in New Zealand and found levels were high to extreme and at times several times higher than that of midday summer sunlight.
Even one sunbed session before the age of 35 increased the melanoma risk by 75 per cent, according to the International Agency for Research on Cancer (past of the World Health Organisation). The agency has reclassified sunbeds as a 'group 1' carcinogen - the same category as cigarettes.
Other organisations that back the call for mandatory regulation for the industry include the New Zealand Dermatological Society, the Melanoma Network of NZ (Melnet), the Melanoma Foundation of New Zealand and Cancer Control New Zealand.
- NZPA