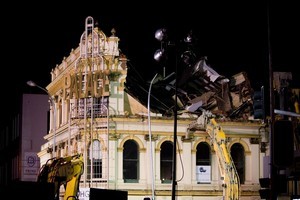 The Chow Brothers are threatening to take Auckland mayor Len Brown to the cleaners for demolishing the Palace Hotel.
Sex industry magnate Michael Chow claimed the court case was a point of principle.
He would spend every cent of his $100 million war chest, if necessary, to win a ruling that Auckland Council officials had broken the law.
"They have a hidden agenda," said Chow. "The council pulled it down because it's adult entertainment. If that had been a church or a hospital would they have pulled it down? The council turned up at six o'clock, the digger was there at seven o'clock. I was shocked."
Chow Group owns the Palace Hotel site on the corner of Victoria and Federal Sts, across the road from the SkyCity casino.
They bought the 124-year-old hotel in 2008, Chow said, because it had good feng shui, a Chinese indicator of luck and the flow of spirits.
Equally valuable, perhaps, might be the flow of pedestrians with bulging wallets from the casino and nearby businesses.
But after cracks appeared during the renovation, the council quickly ruled that it had to be demolished and moved in with the diggers that same day.
"They did a cock-up, they pulled down the building without my consent," Chow said.
"I tried to talk to the chief executive and he turned away and walked off. I still haven't seen the report yet. They need to show me the report."
The council had granted a licence to operate a brothel at the Palace Hotel before it was demolished but Chow believes that councillors did not want his business in such a prime location.
He would take the council to court once the brothers had obtained full disclosure from council engineers.
"No matter how much it costs, I will take all my money and put it on the table and fight for it. It's a matter of principle," he said.