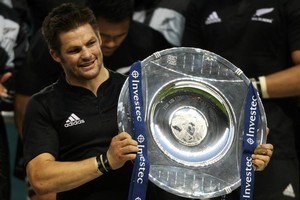 The votes are in, the achievements have been measured and judged, and Herald readers have had their say.
All Whites captain Ryan Nelsen is our Sportsperson of the Year.
His achievements in South Africa changed the tournament - knocking out the reigning champions - and he left a mark on his sport in this country that will last the test of time.
Nelsen's virtues on the pitch were concisely summed up by Herald reader Terry Smith of Pakuranga: "Leader/Organiser/Tackler."
But away from the field of play, the Youngs family saw Nelsen meet supporters for a signing session before the World Cup and win a place in the fans' hearts.
"Nelsen set the example in relating to the children. He came across just as an ordinary bloke yet was a hero and role model, especially to the children there (and to us Dads).
He took the time to stop and have a conversation with my son in what was a full-on afternoon for the whole team."
Bruce Macdonald says: "In my opinion [Nelsen] is to soccer what Richie McCaw is to rugby: a true Kiwi who has developed into a world-class player through a positive attitude without blowing his own trumpet and as such is revered by soccer supporters and non-soccer supporters."
But other candidates from our shortlist also had their backers.
Bruce Green makes a fine case for the All Black captain.
"Without doubt Richie McCaw is not only sportsman of the year, he is sportsman of the decade. He will be elevated as the greatest All Black in history, surpassing Colin Meads. He is an absolute freak who inspires me with his fearless courage and ability to bounce back from everything that the opposition throw at him. In my lifetime of watching sport I have seen sportspeople with more skill and ability, but never have I seen anyone that performs at such a consistently high level over such a long period of time and displays all the other characteristics that makes someone great."
Commonwealth Games success elevated the runner Nikki Hamblin in readers' estimation.
"I think Nikki Hamblin should be sportsperson of the year: her determination and guts in the last 200m was amazing," says Cameron Holt. "She fought and gave it everything; it was a memorable display of an athlete pushing the limits."
Andrew Fraser agrees. "[Hamblin] would get my vote. Gutsy effort, no prima donna stuff. Humble. Champion qualities."
Graham Scott, of Cambridge, applauds Hamblin's "fantastic, gutsy effort". "And in a mainstream sport too! Perhaps she could share some of her "Harden-up" pills with our cricketers."
Tony Powers admired the whole All Whites squad. "They have far surpassed expectations where others are meeting (or falling below) what is expected of them."
Kiwis captain Benji Marshall had his fair share of supporters. "I have three further nominations for Sportsman of the Year," wrote Terry Wood. "Benji Marshall, Benji Marshall & Benji Marshall" and his teammates had many backers too.
As president of the NZRL Kiwis Association, Don Hammond, might be a tad biased on the subject, but he makes a clear case.
"[The] Kiwis for the manner in which they won the recent Four Nations Cup, and the example they showed by showing the path to the top for young players seeking to emulate their feats."
Dee Vosper also admits to having a little bias for backing Hamish Bond and Eric Murray. "What an inspiring pair of down-to-earth, gutsy New Zealanders who have had an amazingly successful year. I count myself very fortunate to be able to say Eric is a friend and treats this 81-year-old with respect , but with lots of fun too!"
Heather Findlay backed Joelle King. "To climb to the top of squash she has to play overseas as there is no competition in New Zealand. She does this under her own steam as there is no funding, or very little funding for her. On top of that she is a really great all-round person who loves her family and is a role model to the younger squash players."
There were others, not on the shortlist, who got emails of support.
Karen Evans said the Black Ferns deserved inclusion "for winning their fourth World Cup in a row.
"They hardly practice, have hardly any competition games, and are not a professional team like the All Blacks."
Brian Evans concurs. "Surely the four-times World Cup winning Black Ferns should win this award. Underfunded superheroes who would have to have one of the most outstanding records in world sport."
Justin Smith, who might be a bit of an All Blacks fan, plumped for the entire All Blacks loose forward trio.
"I vote for Kieran Read. He had an outstanding year with the outstanding Richie McCaw at second and barnstorming Jerome Kaino third."
Matt Humphrey - who sells Suzukis - suggests Ben Townley for his fourth-place overall in the AMA open-class motocross championship.
"An amazing return to the hardest motocross racing championship in the world after a two-year lay-off with major injury. This guy is an amazing athlete and a superb ambassador for this country as well.
"PS: He doesn't race Suzukis either, in case you think I'm biased! His 2010 season was on Honda."
Simon Riley puts forward the name of William Trubridge, New Zealand's world-record free diver. "With the danger and extreme nature of how hard he is pushing, he is a world's best athlete.
"In the next few days he is pushing to dive 100m with nothing but his lungs. I cannot imagine going down 10m."
"And he's doing his dive for NZ's Hector dolphin - to help save them: www.verticalblue.net/news."
FULL LIST OF NOMINEES
* Niki Hamblin: running
* Hamish Bond and Eric Murray: rowing
* Ryan Nelsen: soccer
* Alison Shanks: cycling
* All Blacks: rugby
* Benji Marshall: league
* Joelle King: squash
* All Whites: soccer
* Kiwis: league
* Richie McCaw: rugby
* Valerie Adams: shotput