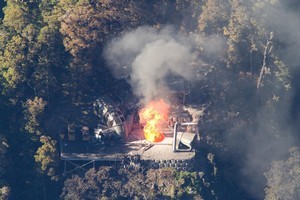 The majority of miners remaining at Pike River Coal mine look set to lose their jobs, with the redundancy process starting.
Pike River officials met with workers today to announce they were going to proceed with redundancies three weeks after a series of explosions killed 29 workers inside the mine, about 50km north of Greymouth.
Engineering, Manufacturing and Printing Union (EPMU) national secretary Andrew Little said tonight most of the remaining 80 to 90 workers were likely to lose their jobs in mid-January, with just a small core of maintenance crew retained.
A consultation period would run until Tuesday with workers likely to be given the four-week notice period for redundancy on Wednesday, he told NZPA.
The union still had to consult with the company about what kind of payouts the workers would receive.
The announcement was in line with what workers had been told shortly after the explosions that took the lives of 29 of their colleagues, Mr Little said.
EPMU represents about 60 of the workers.
Meanwhile, police have handed responsibility for recovering the bodies of the 29 mine workers back to Pike River.
A fire in the mine has prevented recovery of the bodies and a GAG unit - a jet engine working to clear the mine of gases - is still trying to extinguish the blaze.
Police Commissioner Howard Broad today met with Pike River managers and various government agencies in Greymouth to discuss the process of handing the recovery process over to the company as police's emergency role ended.
With the GAG in place the mine is more stable, the fire in the vent is out and there was time to plan for the next steps, he said.
Mr Broad said entry to the mine was not likely in the medium term and the coroner was satisfied that he has sufficient evidence for his purposes.
Police and the Department of Labour were making "realistic judgments" about the value of mine entry for their investigation purposes, he said.
The likelihood of being able to conduct a full scene examination had been mitigated by damage from the explosions.
Mr Broad stressed that the police primary interest remains in the recovery of the men, should that ever be possible.
"There will be a period of time before the handover and from there Pike River will no doubt be assessing its options for the future. They have some significant hurdles to overcome to operate a safe mine."
- NZPA