Every day this week in news, business and sport we feature the finalists for the Herald New Zealander of the Year. Top honours will appear in the Weekend Herald on Saturday.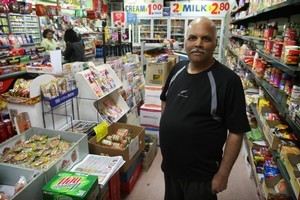 When the earthquake-rattled people of Christchurch were in need, Suresh Patel stepped up.
Mr Patel, who runs the P&P dairy in the suburb of Hoon Hay, became provider, though not immune himself to the effects of the destructive 7.1-magnitude quake that hit Canterbury on September 4.
He was still in shock from the early-morning shake when he arrived to check the damage in his dairy.
Frightened locals, left without power and water, were queuing in need of essential items.
Many businesses were unable to open that day, but Mr Patel threw open the doors of his shop and let people take what they needed - whether or not they had money to pay for it.
The eftpos system was not working and many people did not have cash.
"I told them, 'Take it, take whatever you need - milk, batteries, water, spaghetti," Mr Patel said.
"We just weren't worried. It doesn't matter if they don't pay, because money is not everything.
"Just helping each other was the important thing."
Mr Patel considered it his duty to supply the neighbourhood with the things they needed, and kept restocking his shelves in the days after the quake even if he had to sell items below cost.
He struggled to sleep at night as the aftershocks continued and he spent nights in a van parked in his driveway
Mr Patel also gave more than 100 litres of milk to emergency shelters.
Christchurch Mayor Bob Parker said Mr Patel's generosity was a "splendid example of how the people moved to support each other in a really difficult time".
It was Mr Patel's contribution, with those of others, that made such a difficult time also one of Christchurch's most inspiring periods, Mr Parker said.
Mr Patel was overwhelmed by the response to his generosity. Many people had sent money in support.
He pledged to donate that money to charity. "Just blessings are enough."
We would like to hear from you. Who do you think is a worthy New Zealander of the Year for 2010? Email us at newsdesk@nzherald.co.nz