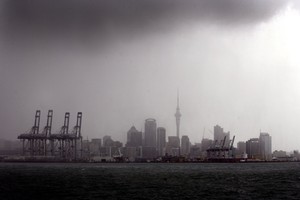 Life has been breathed back into the weather this weekend with a deep low in the Southern Ocean causing some trouble up here in New Zealand.
Severe weather is moving back in to both islands - the first time in several weeks.
The centre of the low in the Southern Ocean isn't going to make a direct hit - but the low is very deep, and with a fairly strong high over the upper North Island the pressure gradient is going to be steep - meaning windy weather.
Meanwhile a rain band coming from the low will push up the South Island's West Coast.
It's great news for West Coast farmers who will finally get a good top up of rain. It will also help the South Island lake levels - even affect river levels in Canterbury.
Then the wind will move in - starting later today and lasting until Sunday.
Strongest winds will be, predictably, in Wellington, Wairarapa and Marlborough.
So will it be hot? Yes - if you live east of the main divide in either island. Inland areas will be hitting the 30s I suspect. The warmth will be most welcome along the east coast, where it's been almost wintry at times this week - in fact a frost in Queenstown on Thursday morning means it was wintry!
If you're in Auckland and other northern centres it will be another mostly settled weekend with plenty of cloud about, sunny spells too - and even the risk of some drizzle. No drought breaker for the north though, sorry.