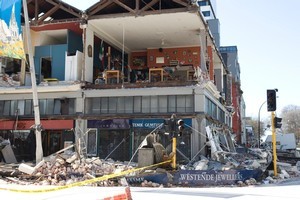 The fact that no one was killed in September's magnitude 7.1 Canterbury quake came down to luck and good engineering, a Canterbury University researcher says.
"It was a fluke that no one was killed," structural engineer Professor Andy Buchanan, a researcher at Canterbury University's department of civil and natural resources engineering said.
"The level of damage and deaths was very low for the proximity to a magnitude 7.1 earthquake," he told a briefing for journalists today.
The quake, with an epicentre near Darfield, occurred at 4.35am on a Saturday morning and falling masonry hit empty streets.
"At any other time of the people would have been killed," said Prof Buchanan.
But he said another key factor was the result of 50 years of earthquake engineering, research and education in New Zealand - which had created a whole generation of earthquake-savvy engineers.
Modern understanding of seismic risks, the corresponding construction standards and the resulting performance of buildings in such an earthquake were not a matter of luck, said Prof Buchanan, who contributed to a paper just published by the nation's science academy, the Royal Society, on how local seismologists and earthquake engineers have developed critical knowledge and understanding of earthquakes.
But Prof Buchanan warned there were "plenty more earthquakes" yet to hit different areas in New Zealand, and a lot more attention had to be paid to soil mechanics, liquefaction and lateral spreading of soils, geotechnical engineering.
Work on producing resilient structures and infrastructure and reducing non-structural damage was also needed.
- NZPA