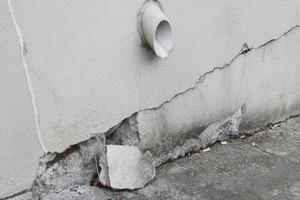 Legislation setting up the framework for the Government's $1 billion leaky homes package, including a Crown guarantee for the banks who will lend cash to homeowners for repairs, gets its first reading in Parliament today.
The Weathertight Homes Resolution Services (Financial Assistance Package) Amendment Bill 2010 amends the existing Weathertight Homes Resolution Services Act 2006 to provide a compensation system for eligible homeowners.
Under the package announced in May by Building and Construction Minister Maurice Williamson Minister homeowners would bear 50 per cent of the cost of repairs with the government and local authorities bearing 25 per cent each.
However the package is dependent on the banks agreeing to extend loans to homeowners to fund their share of repairs.
The Herald understands a key issue for the banks is the security of those loans which will in most cases be against badly damaged properties.
However the bill goes some way to addressing this by including provisions that give Mr Williamson the power to provide a guarantee to lenders on terms or conditions specified by the Minister of Finance Bill English.
The bill also puts in place measures to prevent homeowners who take up the package from later taking legal action against either the government or local authorities such as councils.
A spokesman for the Bankers Association said the banks had not yet agreed to participate in the package and negotiations with the Government were continuing.
Officials estimate a 70 per cent take-up rate of the 23,500 households eligible for the package. On that basis it is estimated it will cost the Government about $1 billion over five years, though the funding won't be capped.
If the take-up rate is higher, and the homes qualify, the Government will continue to fund it.