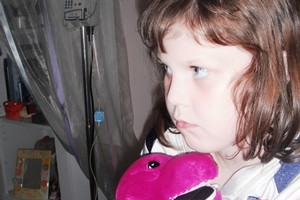 A marathon multi-organ transplant has given a chronically ill Hawkes Bay girl new hope for a normal life.
Matisse Reid had to wait nearly four years for new organs to treat her rare condition, Intestinal Pseudo Obstruction.
The nine-year-old suffered a setback last month when celebrity chef Gordon Ramsay pulled out of a charity event raising money for her treatment at the last minute.
But yesterday her family were elated to see her get the 12-hour large and small bowel transplant they say is her only "chance to live".
"Hard to imagine, working intestine and Matisse in the same sentence. So very very grateful," their online journal says.
"Nine years, eleven months and one week is how long Matisse has lived with Intestinal Pseudo Obstruction. Three years, 11 months is how long she has waited for organs."
Matisse has suffered constant stomach pain and regular vomiting since birth because of her condition.
It has taken away her ability to eat - though she still loves to cook.
Her family moved to Pittsburgh three years ago to be near the hospital when viable organs were available for transplant.
That surgery began at 2.45am (NZ time) yesterday and was completed at 2pm.
Matisse is now under sedation in the Intensive Care Unit at Childrens Hospital of Pittsburgh in the US.
Doctors are expecting to cut back her sedation and remove the breathing tube later this morning, the family say.
They say Matisse's new large and small bowel are working well as she recovers from the surgery.
"Good night. Lots of tubes. Not enough venous access but she is doing well Trying to kick nurses who are bothering her - that's the Matisse we know."
The surgery is good news for the family after Matisse was left "devastated" by Hells Kitchen star Gordon Ramsay last month.
He was set to cook two dinners in Auckland and Wellington to raise money for her treatment but pulled out at the last minute.
Lawyers said the cancellation was due to circumstances beyond the star's control.
The setback came on the back of the family suffering eight "false-alarm calls" in their wait for Marisse's organ transplants.
They are now thanking the selflessness of a donor family for ending their long wait.
"Please keep her in your prayers and the donor family who so selflessly donated organs and are now facing life without their child. We are eternally grateful."
Matisse did not receive a needed new stomach yesterday.
Her own stomach is "looking good" at the moment, her family say.