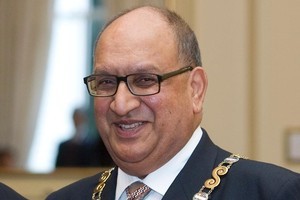 To quote the Queen, 2010 could well be deemed her loyal New Zealand representative's own "annus horribilis".
He found himself evicted from his own home - Government House in Wellington - while it underwent renovations. He had to sign into law the overhaul of Governors-General's conditions requiring him to pay income tax, something he laughs about, saying it is only sensible and suitable in this modern day.
Most notably, Governor-General Sir Anand Satyanand became the unwitting and very reluctant centre of controversy after former Breakfast show host Paul Henry questioned whether he was a real New Zealander.
In response, the New Zealand-born Sir Anand took a leaf from the Queen's own book and adopted a dignified silence.
As it happened, there was no need to speak. The public response in his defence was vehement. Television New Zealand was flooded with complaints and letters to the editor were dispatched by those who knew Sir Anand and others offended by the lack of fair play.
One recalled a Herald photo from 1956 in which a young Anand ran on to Eden Park to celebrate New Zealand's first ever test match win, against the West Indies.
Asked now about his grace under fire, Sir Anand brushes Mr Henry's comment off as "a mistake" which was resolved by apologies to him from TVNZ.
"It was something that arose on one day and in the course of doing this job, there are far more and many important and positive things to take up one's time."
He said it was not the Governor-General's role to court either publicity or popularity. While the "extraordinary" reaction was very gratifying he put it down to the position he held, rather than himself.
"It matches with the impression I have gained and my wife Susan has gained that the person holding the office of Governor-General is warmly received and encouraged in what they do, and that's aside from any personal element."
Refusing to let the Henry saga dominate his year, he steadfastly plugged on with his duties; celebrating the 125th Anniversary of the Order of St John as its patron, presenting awards, a dinner for emerging leaders.
His presence provided some comfort during the disasters that marked New Zealand's year. With Lady Susan by his side, he visited Christchurch after the earthquake and spoke at the memorial service for the 29 miners lost at Pike River mine.
The sports-mad Governor-General also instigated the new Constellation Cup for transtasman netball games after observing Silver Ferns counterpart Adine Wilson celebrating a transtasman win with no cup to show for it.
A call to the Australian Governor-General Quentin Bryce resulted in netball's equivalent of the Bledisloe Cup - a diamond-studded cup of Australian silver in a case of New Zealand black maire wood. He is pleased about this contribution to netball history - although it was probably of some regret to him that Australia's was the first name etched on to it in August.
Before his term ends in August next year, he may visit England for the royal wedding next April between Prince William and Kate Middleton, although he hastens to say it will depend on whether he is invited.
Right now the Governor-General is on an "intrepid journey" to the sub-Antarctic Auckland Islands on board the Navy's new offshore patrol vessel HMNZS Otago. It will be the bicentennial of the discovery of the Campbell Islands.
"It's about the last corner of New Zealand we haven't been able to see in the course of the five-year term. It will be a bit of adventure and a bit of history."