Every day this week in news, business and sport we feature the finalists for the Herald New Zealander of the Year. Top honours will appear in the Weekend Herald on Saturday.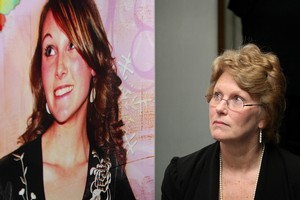 During the graphic murder trial of Otago University lecturer Clayton Weatherston last year, it felt at times that his victim, Sophie Elliott, was on trial.
As 32-year-old Weatherston tried to smear the reputation of the 22-year-old economics star graduate he had stabbed 216 times, public sympathy only grew for Sophie's parents, Gil and Lesley, who sat through the four-week trial with rational focus.
Even in their victim impact statements the couple who had waited 18 months for justice retained their dignity, despite their powerful words.
It was a murder which gripped the nation for its brazen elements - the stormy student-tutor relationship, the location in a bedroom of the family home with the mother downstairs, the frenzied assault and the emerging picture of a pathological narcissist.
"I hope her screams of agony ring in your ears, as they do mine ... you took her life in a cowardly and despicable manner," Lesley Elliott told Weatherston.
This year Mrs Elliott made good on her vow - as "my legacy to Soph" - to help other women avoid abusive and dangerous relationships.
At the launch of the Sophie Elliott Foundation in October, she confessed she had missed the signs of psychological abuse and possessiveness.
When she searched on the internet, she found that about 90 per cent of the signs of abuse were present in her daughter's relationship.
"I cried for about an hour thinking I could have saved us all this bother and heartache if we'd only known beforehand."
The foundation aims to raise funds for a nationwide "safe relationship" programme for schools and universities.
She and her supporters have identified the need for a national programme teaching young women how to recognise the warning signs and risk factors in new relationships. Those backing the foundation include domestic violence experts Alison Towns and Ruth Herbert and agencies including the Families Commission and Women's Refuge.
The foundation's website notes that 20 more women have been murdered by their partners or ex-partners since Sophie's death. The website contains educational material for young women, their friends and family on what to look for in unhealthy relationships, signs of abuse, how to respond and where to get help.
It also encourages men to actively oppose violence and "promote a culture of non-violence and respect".
A neonatal nurse who is active in the Nurses Organisation, Mrs Elliott has addressed high schools and groups on "Sophie's story", drawing emotional responses.
She also made a submission to Otago University's new policy on staff-student relationships but commented in August that it did not go far enough - by prohibiting them.
We would like to hear from you. Who do you think is a worthy New Zealander of the Year for 2010? Email us at newsdesk@nzherald.co.nz