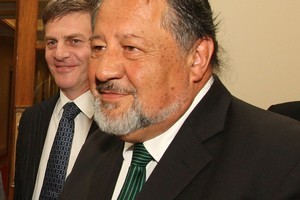 Changes to Maori representation, the size of Parliament and the length of the electoral term will be considered in a review of New Zealand's constitution.
The review, announced today by Deputy Prime Minister Bill English and Maori Affairs Minister Pita Sharples, will also look at the role of the Treaty of Waitangi within constitutional arrangements and whether New Zealand needs a written constitution.
Click here for the Cabinet paper on the review.
The review is part of a confidence and supply agreement between National and the Maori Party.
Dr Sharples said the constitutional review would be a chance to look at how New Zealand's legal and political systems could better incorporate Maori.
"I know Maori want to talk about the place of the Treaty of Waitangi in our consultation, and how our legal and political systems can reflect Tikanga Maori," he said
But Dr Sharples said change would not come quickly.
"Public consultation will guide the review, and information and education campaigns will be part of the review process. Proper consideration of these issues cannot be rushed."
The ministers have appealed for broad cross-party support for the three-year review and plan to write to other parliamentary leaders asking for a nominee to consult on any changes.
Mr English said the announcement followed a long legacy of New Zealand constitutional change.
"We are keen to stimulate debate on these matters, hear the public's views and consider whether any aspects require change."
Dr Sharples and Mr English said a first report to Cabinet would be expected by June 2011.
It would seek agreement on an advisory panel to support the ministers and give information on how the review would affect other Government projects with constitutional implications - such as a review of MMP.
Cabinet would also decide what future funding should be given to the process.
The full review is expected to be complete by the end of 2013 with a Government response within six months.
The review's terms of reference
Electoral matters including:
* The size of Parliament.
* The length of terms of Parliament and whether or not the term should be fixed.
* The size and number of electorates, including the method for calculating size.
* Electoral integrity legislation.
Crown-Maori relationship matters including:
* Maori representation including the Maori Electoral Option, Maori electoral participation and Maori seats in Parliament and local government.
* The role of the Treaty of Waitangi within New Zealand's constitutional arrangements.
Other constitutional matters
* Whether New Zealand should have a written constitution.
* Bill of Rights issues.
- NZHERALD STAFF