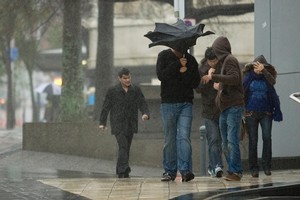 Torrential rain, floods, drenched campers and national embarrassment about Auckland's weather could all be in store this summer.
A La Nina summer has been predicted by meteorologists - which is a weather pattern New Zealand has not experienced for 21 years.
MetService's Bob McDavitt said weather monitoring instruments were now registering a situation that had not been seen since December 1988.
"We're getting the same patterns and they're pretty rare patterns so we look to previous summers as indicators as to what to expect this year."
This weather pattern is identical to the 1988-1989 La Nina summer. It is also similar to New Zealand's summer over the new millennium in 2000, he said. "It's likely you'll be saying to yourself during the 2011 summer, 'I've seen this rain before, I remember it from the summer of 2000'.
"But it's most likely we'll get the heavy rain of the 1989 summer, if our indicators are correct."
If these indicators are correct, the upper North Island can expect torrential rain and damage which the then Ministry of Agriculture and Fisheries at the time compared to the destruction of 1988's Cyclone Bola.
In the first week of January 1989 about 3000ha of Northland farmland was under water, roads were closed due to flooding and Whangarei was 20mm short of receiving its average monthly rainfall in only 24 hours.
There were also concerns about Auckland's weather embarrassing New Zealand during the Commonwealth Games.
In January 1989, Wellington property developer Bob Jones called for the games to be moved to his home town.
"Auckland is totally unsuited for outdoor sporting events in view of its virtually non-stop rainfall," he told the Herald then.
The millennium summer - the other La Nina summer this year has been compared to - was not much drier and people struggled to watch New Year's fireworks through the drizzle.
In January 2000 New Zealand experienced above average temperatures, frequent showers and fishermen were warned that there would be larger than normal swells.
However, Mr McDavitt said these previous summers should only be used as indicators.
"It's not to be taken as a given, but as an indicator. This is the technique which [meteorologist] Augie Auer used to use when he was forecasting."
Weather Watch chief analyst Philip Duncan agreed and said although it looked promising for Northland farmers that there might not be a drought, they should prepare for one just in case.
"It would be foolish to guarantee that there will definitely not be a drought."
DELUGE
(Auckland total for Dec, Jan and Feb)
433mm rainfall in 1988-89 summer
207mm rainfall average