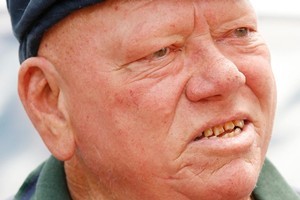 One should be nearing the end of his working life while the other is starting his and has a baby to feed.
Now both are out of work and job prospects are bleak.
Yesterday about 200 workers from Te Aroha's fire-damaged Silver Fern Farms factory met employers to hear the news many had been dreading but quietly expecting.
The fire, which started on Friday night after sparks from a contractor's saw smouldered in a wall panel, tore through three-quarters of the complex.
Silver Fern Farms chief executive Keith Cooper yesterday talked to his staff at the Te Aroha College Old Boys rugby club in a meeting he later described as "sombre" to tell them nearly half of them would be "seasonally laid off".
He said 190 positions had been offered at the company's Pacific factory in Hastings which is starting an extra shift to accommodate the workers and throwing in housing bonuses.
The 160 who do not get jobs in Hastings will be paid their normal weekly earnings for this week and the minimum wage until Christmas.
But staff the Herald spoke to said many were afraid the 190 jobs would be snapped up by those in more senior positions.
Among those was 65-year-old Des McCowatt, who earns $500 a week in the hand.
He was hoping for redundancy but instead will have just over $1000 to see him through Christmas and the New Year.
"I've been working there for 23 years and I can't even get a redundancy payout," he said with tears welling in his eyes.
"They're calling it a seasonal lay-off which is bull. I should be retired but I'm piss-poor if I can't get a redundancy."
His co-worker Shane Madoc, 23, had been working at the factory for three years.
On a good week Mr Madoc got $680 after tax as a meat trimmer while his partner worked part-time at a local video store.
The couple have a 20-month-old daughter called Hayley.
Mr Madoc got a text from a friend late on Friday night to say the factory was on fire. He drove to the scene and watched as his Christmas plans and immediate future went up in flames.
"That's Christmas gone for us pretty much, now we can't go out and have the Christmas we were hoping for, we haven't even started our Christmas shopping yet.
"It makes it quite hard for us. We were supposed to be going away up north to stay with family; that's gone out of the window now, I guess we'll have to stay home."
Mr Madoc said he would look for jobs around Te Aroha but there was "bugger all out there".
He would not move to Hastings saying there were too many people in more senior positions who would be considering the jobs he'd be looking at.
"They're being looked after and they'll be taking the jobs but what about everyone else?
"The company had insurance for the plant but you have to ask why they didn't have insurance to cover our wages."
Mr Cooper said the company had delivered a "pretty positive message" but accepted the loss of jobs was something he had not been ready for.
"If we do rebuild or we have other opportunities at our Paeroa plant they will be called back but I can't hide from the fact there is a seasonal lay-off which is unusually early."
The decision to rebuild was at least two months away, and if it went ahead it would take at least four to six months to complete the factory.
In the meantime the company needed to service suppliers that have livestock processed at the plant so it was increasing capacity at its Dargaville, Hawera and Pacific (Hastings) plants.
Matamata Piako Mayor Hugh Vercoe said the closure was tragic for the town but he was buoyed yesterday by news that Silver Fern Farms' rival Affco would be offering jobs for up to 150 workers.
He said interviews for fulltime work at Horotiu, near Hamilton, would be held in Te Aroha tomorrow.
Mr Vercoe said a Winz team would be working in the town over the next two weeks to help unemployed workers register with them before Christmas.