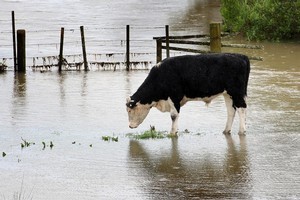 Federated Farmers says history may be repeating itself for Northland farmers complaining about drought conditions, and if so, rainfall in the region early in the New Year may be above average.
"What we are currently experiencing is a pattern similar to that seen 21 and 34 years ago," said Federated Farmers president Don Nicolson.
"I don't wish to annoy camping ground owners, but several weeks of rain would dramatically improve the current picture."
Northland farmers have urged Agriculture Minister David Carter to declare a drought after pointing to the past two months setting new records for low rainfall in many areas, with little hope of any significant rain before Christmas.
A meeting of farming, horticulture, and council representatives agreed to ask Mr Carter to declare a medium-scale climatic event for the whole region, which would help with the process of providing advice and support for farmers and growers .
The National Institute of Water and Atmospheric Research has said the nation is experiencing a La Nina weather pattern and there are indications that high-pressure systems could keep the weather dry through to Christmas.
But MetService meteorologist Bob McDavitt has advised farmers to go back and check their farm performance data for 1989 because "this La Nina is currently closest to the seasons of 1975-1976, and 1988-1989," he said.
In 1989, January was so drizzly in Auckland that people became alarmed that similar weather might strike in the summer of 1990, when the Commonwealth games were due to be staged there.
"There may well be a deja vu of all this in January 2011," said Mr McDavitt.
Mr Nicolson agreed January 1989 was a "pretty wet month for Auckland".
"I know a lot of farmers in north-eastern parts will have their fingers crossed that weather history does indeed repeat".
Mr McDavitt predicted that the summer weather patterns in the country could be roughly divided into three zones. In the north, the easterly trade winds found in the tropics are likely to occasionally move south and bring muggy and mild conditions.
"Lows may be encouraged to form in the northern Tasman Sea and... to bring an increased amount of rain to the north," he said.
In the southern zone there was likely to be less westerly wind than normal and more periods of settled dry and sunny weather. In between those two zones, "weather is likely to be a mixed bag of in-betweens".
A climate scientist, Bret Mullan, who wrote a paper on the influence of the La Nina/El Nino patterns on New Zealand weather, said that during the 1988-89 summer above-normal rainfall was experienced in the northern part of the North Island.
"Many places from Auckland northward received almost twice their normal summer rainfall," he said. "January was a particularly wet month, with rainfall in these northern areas being three to five times normal."
In the north there was more rainfall and greater cloudiness than might have been expected.
- NZPA