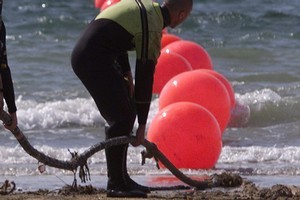 Undersea cables on Auckland's North Shore have been called "critical" to US security in a diplomatic document signed off by US Secretary of State Hillary Clinton.
The cable released today by Wikileaks asks overseas embassies to provide a list of infrastructure vital to US public health, economic security or security.
Undersea cable landings in Takapuna and Whenuapai are among hundreds of assets labelled as "critical infrastructure and key resources".
"Incapacitation or destruction of such systems and assets would have a debilitating impact on security, national economic security, national public health or safety, or any combination of those matters," the cable says.
Ms Clinton signed off the cable in February 2009.
Its aim was to develop a list of vital US assets to protect against terrorism attempts, attacks or natural disasters.
Both New Zealand landings are part of the Southern Cross Cable which provides telecommunications across the Pacific Ocean.
It also has landings in California, Oregon, Hawaii, Australia and Fiji.