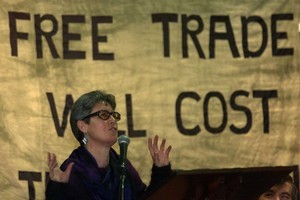 New Zealand has warned other countries negotiating the Trans-Pacific Strategic Economic Partnership that they need to be cautious about intellectual property provision of any deal, a leaked paper shows.
In a paper it submitted to the TPP group of nine countries, it says the negotiators should be "ready to maintain an open dialogue" with groups opposed to strengthening of IP rights and that it is taking on a significant political dimension in many societies.
The paper was released yesterday on the eve of the fourth round of TPP talks, beginning today in Auckland, by a Washington-based public advocacy group, Public Citizen.
Trade unions and anti-free trade activists are gearing up to give about 400 negotiating officials a frosty reception at SkyCity this morning, and plan to hold a series of seminars during the week.
Anti-free trade campaigner in New Zealand, Professor Jane Kelsey, has applauded both the leak as "hugely significant" and the New Zealand paper.
"Daylight is at last beginning to shine on these secretive negotiations," she said.
"But we shouldn't have to rely on leaks to be able to prepare expert analysis and generate informed debate about what our Governments are proposing."
Professor Kelsey and the Public Citizen Group argue New Zealand's position is a direct challenge to monopoly interests of the pharmaceutical industry which want stronger IP provisions than in the existing international IP treaty (Trips).
The effect of stronger IP provisions could threaten New Zealand's state-owned Pharmac agency, which decides which drugs will be Government subsidised, but thereby preventing a free trade in pharmaceuticals in New Zealand.
Prime Minister John Key took it one stage further and made the subsidy of a particular drug, herceptin for breast cancer, an election promise before the last election.
The Government's position on IP provisions is not a surprise but its canvassing of more political issues is.
The paper says that some of the groups opposing further strengthening of IP rights "are acutely aware of what they see as 'secret' negotiations to strengthen IP rights under [free trade agreements] and other international instruments".
"We will need to be ready to maintain an open dialogue with such groups."
Professor Kelsey said the paper exposed a fundamental conflict between the New Zealand and United States positions on intellectual property.
She believed the paper's reference to the issues around IP taking on a significant political dimension were about internet-use laws, Maori intellectual property issues under the Wai 262 claim to the Waitangi Tribunal and the Anti-counterfeiting Trade Agreement.
Meanwhile Green party co-leader Russel Norman has condemned the submission of tobacco company Philip Morris on the TPP to the US Trade Representative about the "expropriation" of trademarks.
The company expresses concern about proposals - in Australia, for example - to remove branding from cigarette packets.
Dr Norman said a similar measure recommended recently by the Maori Affairs select committee inquiry would clearly fall foul of Philip Morris's view of their investment rights, too.
The tobacco company wanted investor-states dispute mechanisms to help protect its investments.
"Our Government should not be so stupid as to sign up to investor-states disputes mechanisms that allow foreign corporations to challenge our democratic laws," said Dr Norman.
Progress to a free trade pact
2001: NZ, Singapore sign Closer Economic Partnership
2005: Chile joins, creating P3 (Pacific 3) or Trans Pacific Strategic Economic Partnership
2005: Brunei joins making it P4
2008: US under Bush and Australia, Peru, Vietnam agree to negotiate
2009: Feb, Obama postpones talks
2009: Nov, Obama agrees to join talks
2010: Mar, round 1 in Melbourne
2010: June, round 2 in San Francisco
2010: Oct, Malaysia joins
2010: Oct, round 3 in Brunei
2010: Nov, Japan agrees to consider joining
2010: Dec, round 4 in Auckland
In the negotiations
New Zealand, Singapore, Chile, Brunei, United States, Australia, Peru, Vietnam, Malaysia