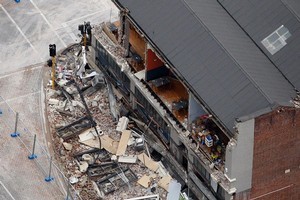 Today is the last day to file claims with the Earthquake Commission.
Up to 400 health workers from around the country were on stand-by ready to go to Christchurch at short notice if Canterbury's health services were overwhelmed after the September earthquake.
Documents released to the Herald under the Official Information Act show a co-ordinated and multi-agency response in the critical days following the 7.1 earthquake that shook the region on the morning of September 4.
In the days immediately after the earthquake, several welfare centres and helplines were set up, financial assistance was arranged and engineers and contractors were brought in to assess buildings and regional infrastructure.
While hospital staff coped with the initial rush of about 100 people - including three e who were critically injured - there were fears of a possible outbreak of swine flu and concerns about the toll of the workload on staff.
A civil defence briefing the day after the earthquake warned that the disaster could exacerbate the already "relatively high rate" of the H1N1 swine flu strain in the community at the time.
"Disruption to people's housing, or accommodation in welfare centres, increases the risk of a larger outbreak."
But it noted that there were sufficient supplies of antiviral treatment.
That same day, a report from the National Health Co-ordination Centre noted that about 100 patients had been treated at Christchurch Hospital within 24 hours of the earthquake.
As well, a health sector update noted three admissions to the intensive care unit, two for trauma and one with a respiratory condition.
"All three are reported as critical but stable," the update said. "Hospital staff stressed and concerned but at the moment managing."
Health infrastructure was mostly unaffected though hospitals had to run on emergency generator power and Princess Margaret Hospital had only low pressure water for a while.
The next day, September 6, hospital staff started calling in sick for the afternoon and night shift. Discussions started about bringing more staff from other district health board areas, amid fears of an increase in admissions because of respiratory problems.
On September 7, mental health services were also under pressure, with a threefold increase in the number of people calling mental health helplines.
That afternoon a teleconference was held with all 20 DHBs, where about 20 staff per board - about 400 in total - agreed to be called on at short notice if needed.
An email from Health Minister Tony Ryall's press secretary to the Prime Minister's office noted how well and quick the response had been.
"Canterbury health services ... have a total sector wide approach. Clinical leaders were put in within hours of the quake," the email said.
"There is a great deal of anxiety and stress among [Canterbury] staff - many also have damaged homes and/or school-aged kids. But also a lot of camaraderie."
At a meeting on September 9, relieving news was shared.
"Scientific advice was beginning to suggest that this earthquake had a return period of anywhere between 700 and 16,000 years, suggesting that ongoing risks were relatively low," said the meeting minutes.
Today is the last day for people to file claims with the Earthquake Commission. By midday yesterday there were 151,000 claims.