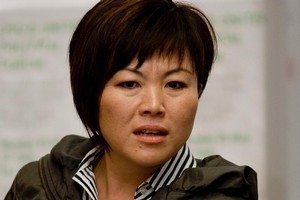 Sunday
You can take the MP out of the city, but it seems you cannot take the city out of the MP. Judging by Melissa Lee's frequent contributions to Twitter, the National list MP appears to be unaccustomed to life outside the boundaries of the Auckland metropolis. "OMG I see naked sheep!!!!" she tweets during a spring-time trip through the Waikato. "LOL They look funny without their woolly coat!" Another enthuses: "OMG a Long Black is only $2.50 in Gordonton Road, on the way to Hamilton!!!!!! Wow. Pretty good too!" And we thought the National Party was the farmers' party. (For non-Twitterers, OMG is "oh my god" and LOL is "laugh out loud".)
Monday
Thanks, Wayne. But one's enough. It's that time of the year when politicians are confronted with piles of Christmas cards placed in front of them by their secretaries to sign. Obviously Defence Minister Wayne Mapp was either so distracted or so bored while signing his cards, he did not notice he had signed and sent two of the exact same cards to a Herald staffer in the press gallery.
Wednesday
The official results for the Mana byelection show Kris Fa'afoi's majority has increased by more than 300 votes to 1406. But it is not enough to dampen the spirit of National candidate Hekia Parata, who managed to cut the Labour Party's majority in the seat by more than 4700 votes. "Heck Yeah!", she puns loudly in her press statement. Matt McCarten, self-confessed spoiler of Labour's campaign, added just 33 votes to his byelection night total of 816. On last Sunday's Q&A programme, host Paul Holmes had suggested to McCarten that he seemed particularly of heavy heart, "and I assume that's not because of losing Mana". Quick as a flash, McCarten replies: "I was the only one who got more votes than anyone got last time." While Parata ran Fa'afoi close, the lower turnout in the byelection saw her get some 2300 fewer votes than she did at the 2008 election...
... A forlorn sight greets lunch-time visitors to Parliament. Standing in the shadow cast by the statue of Richard "King Dick" Seddon are a group of ... well, you would hardly call them protesters. Rather, the group has gathered at Parliament to express solidarity with the people of Indonesia-controlled West Papua on the territory's self-declared independence day of December 1. Even with Greens co-leader Russel Norman holding the rather striking flag of the West Papuan independence movement, the "protest" struggles to make it into double figures.
- compiled by John Armstrong