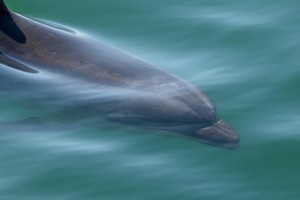 About $50,000 is still needed to fund a memorial statue to Moko the dolphin at Mahia Beach, Hawkes Bay.
Residents have agreed on plans for a stainless-steel statue of the much-loved dolphin, which died this year. But so far only $5500 has been raised, just 10 per cent of the $55,000 needed for the memorial.
Moko was a regular sight at Mahia Beach for more than two years before moving on to Gisborne and then Whakatane.
The bottlenose dolphin was found dead near Mt Maunganui in July.
Wairoa District Council chief executive Peter Freeman said fundraising was tough, particularly when there were other good causes competing for cash.
"There's so many other things occupying people's minds, with the Canterbury earthquake fund, and now the miners' appeal."
Wairoa Mayor Les Probert had donated $1000 from the mayoral discretionary fund and the rest of the money had come from donors.
Mr Freeman said a Facebook site was being set up to allow people to record their memories about the dolphin, and also encourage donations.
"There's so many people from around the world who have interacted with this dolphin, it's amazing," he said.
Mr Freeman's grandchildren were presented with a gift of a kahawai from Moko, who often brought people fish, he said.
A maquette, or small model of the memorial, would be sold to raise funds.
Artist Chris Gemmell had also donated two paintings which would be sold on Trade Me.
Mr Freeman said a site had been identified at Mahia Beach and he was confident the council would agree to amend the reserve management plan to allow the statue to go ahead.
The memorial had been designed by Desna Whaanga-Schollum, and depicts Moko leaping out of waves.
The dolphin would be on top of an Oamaru stone base. The head and fin areas of the dolphin would be hand-chiselled with moko, in reference to the dolphin's name.
- APN