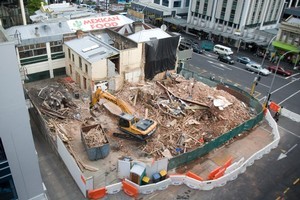 The ruins of the Palace Hotel are set to remain while the owners battle the Auckland Council over clearance of the site.
The owners of the site where the 124-year-old building stood yesterday filed a trespass order against the council and refused construction workers access to the site.
Chow Group brothers John and Michael Chow had been renovating the historic building on Victoria St West as a brothel, but the council tore it down last month after cracks appeared in its walls.
The brothers, who claimed they have not been consulted about the clearing of the rubble, stopped workers from removing the bricks.
"Council has a hidden agenda and they're not releasing the full report on why they pulled it down. I need to see that report, I just need fair treatment and I need to see a full report about why they pulled it," said Michael Chow.
The brothers parked their cars at the site entrance of the site and told police the workers were trespassing.
"This is my property, my land, my building - they've got no right to take anything from my land without my consent," Michael Chow said.
The Auckland Council has labelled the brothers' move a publicity stunt and "are at a loss" as to why they are obstructing the removal.
Auckland Council spokesman Glyn Walters said the pile of bricks was a public safety concern and the council wanted to clear the rubble as quickly as possible.
"We are at a loss as to why they won't let us get down to the basement and see what they were doing in there. It involves quite a painstaking forensic process of pretty much removing the bricks one-by-one to see why the building collapsed and what was going on in the basement."
He said the council has authority to enter the land and the trespass notice was "just a publicity stunt".
"They're only slowing the process and we want to know why they won't let us clear it."
Chow Group lawyer Max Tait said any conspiracy theory that the brothers' renovation of the hotel is the reason it cracked is "nonsense".
"They are protesting because they have not been consulted about the process at all and they want to get their own contractors in to make their own assessment."
He said a timeframe for removal of the bricks was not known and the brothers would "continue to fight" until they can get their own independent assessments.
"It is not a matter of what's hiding in the basement, they just want their own assessments of their own property."
Auckland Central police Inspector Cornell Kluessien said police attended but did not need to get involved.
- Additional reporting NZPA