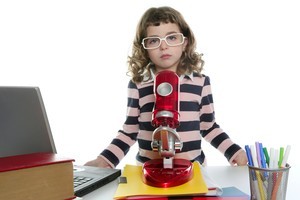 Kiwi kids love learning about science and have fun doing projects in the lab - but their enthusiasm drops when it comes to reading the technical stuff in books.
These are among the findings of a new assessment on students' attitudes towards science in New Zealand here and overseas.
A Ministry of Education report this week says the attitudes of students are important, as a 2007 survey found a "severe shortage of physical, mathematical and engineering science professionals" in New Zealand.
"Therefore an examination of the attitudes of students to science at the time when they are deciding about their future careers is relevant."
Fifteen-year-old students from 170 New Zealand schools took part in an international assessment survey, which asked about their attitudes and engagement with science, specifically their interest in the subject and motivation to study it.
It found 66 per cent of Kiwi students had a medium to high interest in human biology, 55 per cent had a medium to high interest in chemistry and 50 per cent had a medium to high interest in astronomy.
Other topics such as physics, plant biology and geography were less popular among the students.
New Zealand students had a higher interest in chemistry than students from other OECD countries taking part in the international survey.
The general interest in science was equal among New Zealand's girls and boys, unlike overseas where boys tended to be more interested than girls.
Nearly three-quarters of Kiwi students said they enjoyed acquiring new knowledge in science - a figure which was also higher than the OECD average. More than half had fun while learning about science and were happy doing science problems.
But when it came to reading about science New Zealand students were less interested than those overseas.
The study also found 71 per cent of students studied science because they knew it was useful for them. About two-thirds said it would improve their career prospects and help with getting a job.
Nearly a quarter of the students said they were expecting to hold a science-related job by the time they were 30.
Science New Zealand chief executive Anthony Scott said it was good news that students were showing a greater interest in science, as it was an area that would continue to grow.
He said citizens of the future needed to be "science literate" to discuss some of the big issues of our time.
Science-related jobs were no longer confined to the laboratory, and there were a wide variety of roles for students looking to move into a science-related career.
"The idea of the scientist in the white lab coat is a very narrow view of what constitutes a science-related career these days."