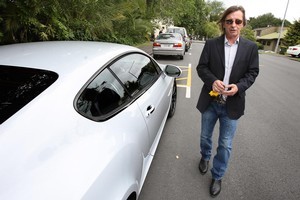 AC/DC drummer Phil Rudd believes he is being treated unfairly after being convicted yesterday for possessing 27 grams of cannabis.
Rudd, whose legal name is Phillip Witschke, was convicted and fined $250 plus $132.89 court costs when he appeared before a community magistrate in Tauranga District Court.
Today Rudd told the Sunlive website from his Tauranga home he thought authorities were treating him unfairly.
"Give me a fair go," he said.
"They (police) have been trying to catch me on the road for a while too."
News of the conviction had drawn many comments and Rudd said many people had sent him messages of support.
Police found 25 grams of cannabis at Rudd's house and two grams on his launch Barchetta when they executed a search warrant on October 7.
Defence lawyer Craig Tuck asked the magistrate to discharge Rudd without conviction as the offence could hinder his ability to travel for work.
"He travels extensively around the globe, across the planet, and on the basis of such criminality, which is low level offending, he is being targeted," he said.
Police opposed Rudd's request for discharge without conviction, saying when travelling to countries such as the United States he would still have to declare he had been arrested on drugs charges.
Magistrate Robyn Paterson said Rudd was playing "Russian roulette" and he should have known how serious a drug conviction should be.
"My only Russian roulette is surviving life on the road," Rudd said today.
He said he still enjoyed living in Tauranga and the conviction had not changed his view about the city.
"I've been here for 30 years. This is my home. My kids are all here. I'm not going anywhere."
Rudd had not spoken to the other AC/DC band members about his conviction and was unsure if they would carry out another tour.
"I haven't heard anything. It's hard to say if we will do," he said.
"When I first joined the band in 1974, we did 174 concerts in 11 months.
"The shows we do these days are not just set up in a day."
- NZPA