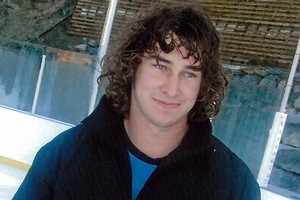 When Blenheim couple Pat and Pam Heagney heard the jury verdict "guilty" in the High Court at Wellington this afternoon, they dissolved into loud sobs and the tears took a long time to stop flowing.
For almost two weeks the pair have sat patiently through the trial of Kevin King, former co-owner of the bar from which their son, Matthew, was ejected to his death.
King, who later moved to Christchurch, denied manslaughter but in the space of four hours a jury of nine women and three men returned with the result the Heagneys wanted to hear.
"We're stoked, but it doesn't bring Matt back," said an emotional Pam Heagney outside the court.
Still mopping his eyes, Pat Heagney added: "It's a good result. It has just made it clear people cannot do that" - meaning bar owners and security staff broke the law if they threw patrons out with excessive and unjustified force.
Matt Heagney was 24 when 50-year-old King put the mechanic in a headlock from behind. He and two inexperienced bouncers then threw the limp victim outside the door of the Shapeshifters pub in central Blenheim.
The back of Matthew's head hit the concrete footpath and he was pronounced dead a few hours later from severe head injuries.
It was the stuff nightmares are made of: Mr and Mrs Heagney were woken by a 3.30am telephone call from police telling them the eldest of their three children had been hurt in a bar incident.
"We thought it was a bump on the head, nothing serious, and that we would just take him home," said Mrs Heagney.
But when they arrived at Blenheim's Wairau Hospital police officers were waiting outside Accident and Emergency.
"That panicked us," Mr Heagney recalled.
Inside, the grim faces of medical staff told the story - things were "very bad" in those early hours of August 23, 2009.
In shock, Matthew's parents clutched at straws.
"But there was basically no hope. We obviously pleaded with them to do something - anything - to save him," Mr Heagney said.
"They said it was too late."
The unconscious young man - described as having been happy, healthy, popular, generous, ambitious, a keen sportsman - died. Surgery or other medical intervention would not have helped, his parents learned later when they were torturing themselves with the "what ifs".
About 1000 people attended Matt's funeral held in a large marquee at his parents' home. They miss him "so much" and siblings Abby, 22, and Ryan, 18, who also attended the trial, along with some of Matt's friends were "doing it hard," the Heagneys said.
After going to university in Palmerston North for a year, then studying in Christchurch, Matthew came back to Blenheim.
"He just wanted to be home" and joined the family transport company, Heagney Brothers.
Their son, had bought a house which he was renovating, and had plans to acquire a second property. He played rugby, raced cars with his Dad (they built one together), went to the gym every day before work, enjoyed mountain biking, jet skiing and camping.
Now they can only hope no one else's child dies as Matthew did.
Mr Heagney has written to numerous authorities in a bid to get tougher rules to safeguard pub patrons and more thorough training introduced for hospitality staff.
So far his pleas appear to have fallen on deaf ears, with government and industry officials apparently sitting tight until after the trial of Kevin King.
Today's conviction may help motivate improvements, the Heagneys said.
"I hope the industry will take a good look at itself now. Other people have been killed (in similar fashion) and nothing was done," said Pat Heagney.
If action was taken, "at least my son's death won't be in vain."
A relation of Kevin King said after today's verdict that he was stunned. The man, who would not give his name, said supporters were extremely disappointed at the trial's outcome, which could see the 50-year-old jailed for manslaughter when he is sentenced early next year.
- NZPA