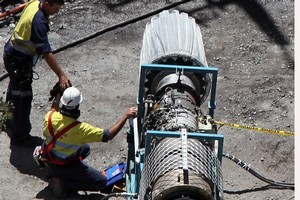 A GAG unit at the Pike River mine appears to be working with early indications an underground fire is dissipating, police say.
The jet engine unit is being used to try to make it safe for rescuers to enter and try to recover the bodies of the 29 workers lying deep inside the coalmine after a series of blasts.
The unit will fill the mine with inert gas in an attempt to extinguish the fire inside.
Pike Mine chief executive Peter Whittall told Radio New Zealand this morning the machine was switched on at 10pm last night and had run continuously through the night.
Mr Whittall said rescuers now had to "wait and see how the mine reacts" to the gas pumped into the mine.
On TVNZ's Breakfast, he described the deployment of the unit as "a great step forward."
He said the unit would continue running until there was a reduction in flames and combustible gases in the mine.
Police commander Superintendent Gary Knowles later said the unit appeared to be working.
"At this stage there is some early indication [the fire underground] is dissipating," he said.
Mr Knowles said the GAG engine unit would continue to run for the majority of the day, until it reached a point where the environment underground could be assessed to see if the heat had reduced and the fire had abated.
The GAG unit might then be used again - and possibly several more times - until it had the desired effect.
"It's the first step of a long journey and I keep saying to people that it's not a quick fix," Mr Knowles said.
"It will take time. But it's a positive thing."
In an earlier statement, Mr Knowles said once the fire inside the coal mine had been extinguished and the atmosphere inside was inert, work would start on cooling it so that rescuers could enter.
He said this was likely to involve pumping nitrogen into the mine.
"Police do not yet have an indication how long this will take, however the mines experts warn it will not be a quick process," he said.
Australian expert Dave Cliff is on hand to guide the recovery efforts.
Yesterday Mr Knowles said those at the mine would not walk away during this afternoon's Pike River Official Remembrance Service.
"All the emergency services would like to be at the remembrance service, but we also want to make sure we focus on the rescue."
Mine rescue staff, who will go into the mine once it is considered safe, would be at the service "to be with their brothers", Mr Knowles said.