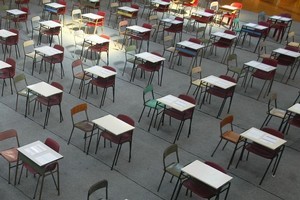 Four mistakes were made in this year's secondary school exam papers despite a "robust" seven-tiered checking system.
Every year errors are found in exam papers, but the New Zealand Qualifications Authority insists the checking system is "thorough and successful".
This year four mistakes were made in different papers - including two in Level 3 papers and one in a scholarship exam.
NZQA deputy chief executive of qualifications Bali Haque said he was satisfied that the errors were "insignificant" and did not disadvantage students. He said the errors were not unusual and NZQA published the exam errors every year.
"The errors are regrettable, and we don't want them to happen. We put the errors through around seven checks before they get printed.
"So we have, we think, really good systems in place to ensure we put papers in front of students which work."
Three checks are made during the editorial process; an independent checks then sits the exam before someone critiques it. A national assessment facilitator employed by NZQA checks the paper, then the examiner checks the paper.
However, Mr Haque said the four blunders slipped through these checks and it took a teacher's complaint before NZQA noticed the mistakes.
When asked why none of the checks picked up the errors, Mr Haque said: "The issues that we are dealing with here are not significant, and we haven't had students calling us at all around this."
He felt the errors did not disadvantage students and did not add to their stress level in exams, he said.
"I would say that this is one item in the case of a three-hour paper. I don't believe it would [add to stress]."
He said the inaccuracies slipped through because of the volume of exam papers.
"We are talking about literally thousands of questions across the standards. It's a vast exercise. Although we regret the errors that come up ... we stand by the argument that the errors were not a disadvantage to students."
Education Minister Anne Tolley said she felt overall that the exam period this year had been successful and she is satisfied with the checking systems in place.
"One error is too many, but put in perspective any mistakes have been extremely rare and minor. I'm assured that no students have been disadvantaged and that NZQA will continue to monitor its processes."
Mr Haque said NZQA also had a system in place to help students who felt they had been handicapped by unforseen circumstances.
ANNUAL EVENT
Blunders in 2010 NCEA exams:
* Chemistry Scholarship paper gave the wrong value of a molecule.
* Te Reo version of Level 3 Statistics and Modelling paper had an incorrect algebraic equation.
* Level 3 Biology paper mislabelled tree-ferns.
* One exam centre had missing pages in the Level 2 Geography Resource booklets.