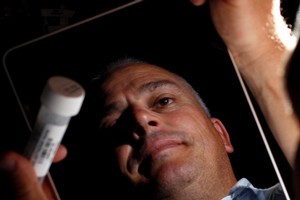 Summerland School has repeatedly been targeted by thieves who have stolen more than 60 laptops, televisions, projectors and other electrical items in the past few years.
But frustrated staff and students are hoping that is about to change thanks to a new crime-fighting initiative being launched in Auckland today that will make their school property less desirable to thieves.
The primary school is one of 75 in West Auckland which is being given DNA forensic property marking kits which have already reduced crime in other parts of the country.
The SelectaDNA kits, which have been paid for by BNZ and already delivered to nearly 300 Waikato schools, contain a clear glue-like substance made up of synthetic DNA code which can be painted on to valuable items.
The DNA code in the substance, which also contains microdots, shows up under ultra-violet light making it easy for police to trace the owners when recovering stolen property.
The initiative is designed to act as a deterrent as criminals can't file the code off, like they can with serial numbers, and because it is marked in a non-removable code it makes it more difficult to resell the stolen property.
BNZ's national security and fraud manager Owen Loeffellechner said it was that deterrent factor that made the initiative so appealing and the results were already speaking for themselves.
He said the kits were given to 1000 homes, schools and businesses in Counties Manukau and during the six-month trial burglary in the area dropped by around 60 per cent. It has also been trialled in Rotorua schools where there was a 45 per cent reduction in burglaries.
Mr Loeffellechner said BNZ used another product linked to SelectaDNA in its branches which got them thinking about how they could do something worthwhile for the community. This initiative was a way of giving back.
And the initiative is greatly appreciated. Summerland principal Luke Sumich said his school had been broken into several times in the past five or six years, with thieves mostly targeting electronic equipment. Of the 60-odd items that have been stolen, police have only been able to recover about three.
"The police have done a pretty good job of finding people but not the gear."
The kits can also be brought by members of the public at any branch of the BNZ for around $85.