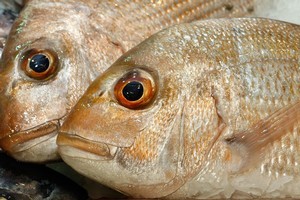 Ministry of Fisheries staff are mystified by the discovery of more than 1000 snapper found floating on the surface of the ocean off the Northland coast.
Theories have been offered - one is that the fish were chased to the surface by larger kingfish and the other is that they could have fallen out of a net as it was being hauled in by a passing trawler.
Some of the fish, found floating in water 18m deep off Ruakaka by a recreational fisherman on Saturday, have been sent to the National Institute of Water and Atmospheric Research (Niwa) for tests.
Ministry district compliance manager for Northland Darren Edwards said the fisherman who discovered them had brought a few that were still alive to the Whangarei office.
"We're still trying to establish where the fish had come from. They looked as if they had been stunned," he said.
"Inquiries we've conducted suggested some were in a state of consciousness and would have swum back into the water.
We've obtained a couple of samples for Niwa to analyse them."
He could not say whether the fish were toxic because tests were still being carried out.
Mr Edwards has appealed for anyone with information on how the fish ended up in one spot to come forward.
"They could have come out of the net or it could have been a natural occurrence. It's possible they could have come from a trawler."
The fish could escape from nets during gear failures in trawlers, he said.
- APN