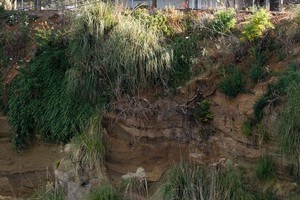 A popular diving spot on Auckland's North Shore should not be closed down despite the death of a teenager yesterday, a local politician says.
Police found the body 17-year-old Raphael Alualu at the bottom of Quarry Lake near Lake Pupuke today.
Devonport-Takapuna local board chair Chris Darby says young people have been diving into the quarry lake for decades.
Though the death is tragic, he does not want to see them banned from the area.
"Just two days ago we had hundreds of young people jettisoning themselves off that cliff.
"They want to be challenged. They want this enjoyment. They want these thrills in life."
Council officers are today assessing the restrictions in place at the dive spot near Shea Tce in Takapuna, says Mr Darby.
They are expected to recommend safety measures to prevent future deaths, he says.
He wants to find a way to improve safety without closing the area off.
"If we're reactive and we put up fences everywhere in that area they would find a way around those fences."
"There is a huge demand to enjoy the water in this area. My response is to find how we can make it enjoyable and make it safe."
Most young people jump into the lake from a spot five metres above the water, says Mr Darby.
But it was a fenced off 10m-high spot that Mr Alualu was jumping off before he went missing, he says.
He is calling people to stop jumping from that point until an investigation is carried out.
"A young person lost his life jumping off that high point. Let's call it quits for now."
North Shore Squash Club president Pat Menzies told Radio Live divers have torn down warning signs and cut through fences around the higher diving spot.
He regularly warns divers away from the ledge near his club buildings.
Takapuna Police sergeant Greg Ander says Alualu resurfaced after his dive but did not back get to shore.
Police have referred the case to the coroner, he says.
Business school to launch investigation
Mr Alualu, a student at the School of Business in Newmarket, Auckland, had gone to the lake with other students and staff.
School owner Lyndon Cooper said the school had launched an internal investigation, bringing in an independent specialist party to look at the school's practices.
Mr Cooper said it was not yet clear whether the swimming hole trip had been planned, nor if the group had been there previously.
He had spent part of today with the family, while a minister performed a blessing over the lake and Raphael's body was recovered.
"What a wonderful family. They're so warm and inviting and this is just so sad," he said.
"It was gut-wrenching today, and it really brings home what is important in life."