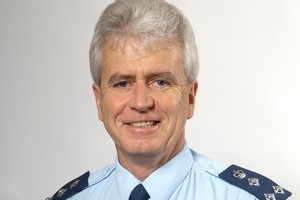 New Police Commissioner Peter Marshall is the only commissioner in recent memory to hold off a band of 13 thieves in a hallway with only a ceremonial sword.
Mr Marshall, who was named yesterday as the replacement for Howard Broad, was the victim of a home invasion last year in the Solomon Islands, where he has headed the police force since 2008.
"We had 13 people smash into the house, and my steel ceremonial sword was put to good use," Mr Marshall, who is now commissioner for the Solomon Islands, said.
As he and his wife Pamela barricaded themselves in their bedroom, Mr Marshall used the sword whenever the door was forced slightly open.
"The sword went through with a bit of a parry, and eventually they decided to leave."
Mr Marshall will step in on April 3, when Commissioner Broad retires, and the Government has made it clear that he will be on a tighter leash than his predecessor - his term will be for three years rather than the usual five.
Prime Minister John Key said the shorter term meant more opportunity to "review performance and make sure that these very senior appointments realise that they have to deliver.
"There are changes that will have to take place in the police."
Mr Marshall's resume after 38 years with the police includes being the New Zealand police liaison officer in Canberra, head of the Hawkes Bay armed offenders squad and then the area commander, head of Auckland city area, and assistant commissioner of operations before taking charge in the Solomon Islands.
He was also in charge of police operations covering Apec and the America's Cup in 2000.
He is widely respected, although former Solomon Islands Attorney-General Julian Moti criticised him for taking part in Mr Moti's deportation to Australia to face child sex charges.
Police Association vice-president Chris Cahill said Mr Marshall had a proven track record.
"He's got a good personality and relates well to people, which is important."
One senior officer said Mr Marshall was a leader who knew what he wanted and had great management skills.
Mr Marshall, 58, said he wanted to be on the frontline as much as he could.
"I certainly want to be very visible, out in the districts, the voice for New Zealand police and an advocate for the staff who I believe are doing a fantastic job."
He was also a great believer in the preventive measures that have been adopted in Counties-Manukau.
"There is an absolute desire from the public to see police on the street, being visible and available.
"That is something dear to my heart in the context of what I would like a police force to offer the public."
* * * * *
NEW JOB BUT FIRST THE RIOT
The next Police Commissioner marked his appointment by spending three hours dealing with an unruly crowd in the streets of the Solomon Islands.
Peter Marshall, the head of the Solomon Islands police, was yesterday on the frontline with police in the capital Honiara to control rioting after a disgraced politician was sent to prison.
The violence erupted after a court sentenced cabinet minister and former militia leader Jimmy "Rasta" Lusibaea to two years and nine months jail for wounding another person and assaulting a police officer.
The group began throwing stones at police outside the High Court and then moved into the centre of the city, sparking panic among businesspeople and shoppers.
The police deputy commissioner, Walter Kola, told Radio New Zealand that the situation was under control.
"The situation now is being contained. We have cleared Pt Cruz, we have cleared the High Court, we have cleared the market as well and also Chinatown. We have pushed them away and they are now going back to their homes, but we will try and contain the situation from now up until late this afternoon.
"There are a few pockets of individuals that are showing anger to the police in certain spots in Honiara, especially at the commercial areas."
Mr Kola said those causing the strife were opportunists, not necessarily supporters of Lusibaea.
He said they were yet to make any arrests.
- staff reporter