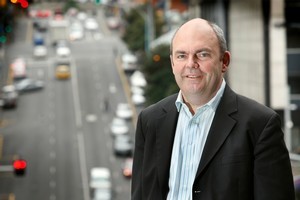 Transport Minister Steven Joyce. Photo / Brett Phibbs
At last we can sleep easy.
Ever since the Government instructed Auckland to create a Super City, city fathers and mothers have tossed and turned in their beds trying to fathom what was meant by "a spatial plan".
They were told it had to be in place by the end of next year - which was all very well, but the Government forgot to provide a detailed instruction book.
And Aucklanders, being the independent, who-needs-a-manual sort of folk we are, have been trying to bluff it ever since.
Mayor Len Brown, master of the broadbrush-vision approach to all things, sees it as an all-embracing Auckland bible, guiding us on our journey to world-city stardom.
At the other end of the scale, business groups are enthusing that, at last, they'll be able to erect the same-sized signs from Albany to the Bombay Hills.
Yesterday, into this confusion strode Steven Joyce, Transport Minister and senior courtier to Prime Minister John Key.
He let the cat out of the bag by indicating the spatial plan was the plan you have when you don't have a plan.
Writing in the Sunday Star-Times, Mr Joyce said the challenge for Auckland's spatial planners would be "not to impose their ideal Auckland on us, but allow for an Auckland that reflects the varied ways in which the people of our biggest city already choose to live".
Simpletons like myself had thought the spatial plan concept was introduced to try to repair the huge cock-ups we Aucklanders have made by doing just that, choosing to live by sprawling ever outwards - towards Whangarei in one direction and Hamilton in the other.
But no, says the minister, "we ... have to understand that people like to live where they want to live ..."
It hadn't been the best of weeks for the minister. It started with Sunday Star-Times columnist Rod Oram unveiling a secret, independent business study of the Puhoi to Wellsford "Holiday Highway" which showed the cost/benefit ratio as 0.4, which meant that for every $1 invested the return was just 40 cents.
Embarrassingly for Mr Joyce, the analysis was commissioned by the Government.
A few days later, Mr Brown triumphantly released the business plan for the proposed CBD rail tunnel, commissioned by the old regional transport authority and KiwiRail, which declared the $2 billion project would pay for itself more than three times over. A much better score than the Government's pet Puhoi highway.
Of course, this northern highway was declared a "road of national significance" without waiting for the spatial plan to be developed.
Yet at the grand inauguration ceremony for the new Auckland mayor and councillors, Mr Key said any verdict on the CBD tunnel would be subject to the spatial plan.
What the Oram column has flushed out is that the Government doesn't really care about the spatial plan.
If anything, it sees it as a delaying tactic for projects they disapprove of, such as the CBD tunnel.
Oram - like many other critics - argues that the new highway will distort Auckland development, pushing urban development out 85km to the north. Mr Joyce as good as says that is a good thing.
"Some people believe the way our cities have grown is wrong. They think the quarter-acre section is a fool's paradise ...
"It's a philosophy that argues that urban planners should have much more say about how we live our lives, and it's an agenda that the old Auckland Regional Council had in Auckland for a long time: have a cast-iron metropolitan urban limit ..."
I'm proudly in that camp. Can you imagine Auckland now without the existing constraints - limited as they are - on development?
The Waitakere foothills even more subdivided than now, what's left of our coastal heritage, built over, more of our productive rural hinterland urbanised.
And with Mr Joyce's laissez-faire approach to development comes the huge costs of roading, public transport, drainage, schools and so on, that the rest of the community has to pay.
The CBD tunnel report explains exactly why we should not be leaving Auckland's development to the whims of land-bankers poised to make a fast buck at the city's fringes.
It argues that if Auckland is to achieve the Government's goal of becoming a globally competitive urban centre, it has to create a highly liveable, high-density central working environment to attract the best and brightest from home and abroad.