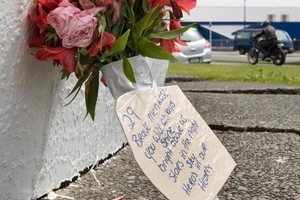 West Coast schools and nearby mines are expected to stay closed on Thursday as about 7000 people attend a remembrance service for the 29 lost Pike River miners.
Organiser Robin Kingston said that Omoto Racecourse, near Greymouth, would be set up with 29 tables, one for each of the lost men, decorated by the grieving families.
The national service for the tragedy will be broadcast live from 2pm.
"For the Coast it's a time for us to come together and grieve," Archdeacon Kingston said.
"We did that when we had the Strongman mine disaster about 43 years ago.
"Then we had 4000 people standing around a mass grave, and it was pouring with rain and people poured out their hearts.
"We're trying to find a situation that isn't a grave and is a service that brings every part of the whole of the Coast community together. It's to help us to move forward in our heart."
The service will feature tributes and songs, including God Defend New Zealand and a couple of the West Coast's own "national anthems".
"If you don't sense a West Coast character by the end of this, I will be absolutely astounded and you're entitled to complain."
The service is to be held between 2pm and 3pm, but people are expected to start arriving at 10am and stay later than 3pm.
They will brought by bus from Greymouth and surrounding towns.
The Government initially expected a service would be held in Christchurch, but the West Coast's rugged individualism meant they were always going to put on their own day, he said.
"It's not only for us but for the whole world in a sense, but this is the West Coast community. We do things our way."
The 29 tables will be decorated by people throughout the day, mainly with stones and 50,000 ferns.
"The miners are right now in a tomb of solid rock. The stone reminds me that I don't want to have a hard heart," Mr Kingston said.
"The only way I get it out and turn my heart of stone into a soft heart is to do things that hurt because doing things that hurt are the ways I work through my grief."
The fern was a symbol of the beauty of the West Coast and of life, he said.
"I don't want my life to dry off and become brown and therefore I've got to keep working through my grief, so that I will live well for the rest of my life not bound up with festering wounds."
Two large television screens and seating are to be brought in today.
Con Richards, 76, is Omoto Racecourse's volunteer caretaker and has been part of a committee looking after the club for 46 years.
Yesterday he was mowing the lawns in preparation for the ceremony.
"I come down every day just to have a look. I've been doing it ever since I retired. It's a special place," Mr Richards said.
The racecourse, which has views of the Paparoa Ranges where the 29 men remain underground, was appropriate for the ceremony, he said.
"The week has been emotional. It's really knocked everyone around the town."