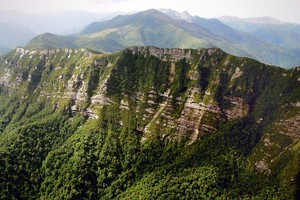 Families grieving after the Pike River disaster have called on a lawyer who rallied for victims in a previous West Coast disaster and pushed to bring individuals to account when an inquiry blamed "systemic failure".
Grant Cameron represented victims' families in a commission of inquiry after the Cave Creek disaster, when 13 students and a Department of Conservation officer died after a bridge collapsed in the Paparoa Ranges.
The Pike River coal mine, where 29 men died last week, is in the same mountain ranges, near Greymouth.
With a Royal Commission of Inquiry for the Pike River tragedy expected to be set up today, many Greymouth residents, including some families of the 29 lost men, have contacted Mr Cameron to help them through the process.
"I think they will get a great deal of comfort because of the tremendous amount of information that will come out, things they are not aware of at this stage - what actually happened in the mine and in the company in terms of procedures and international best practice," Mr Cameron said.
At Cave Creek, there had been "grave disquiet" that students could have been saved if there had been a quicker emergency response.
The Pike River families had relayed concerns about whether police somehow prevented Mines Rescue people from immediately accessing the mine, Mr Cameron said.
"The pain and agony is just the same; the mourning and coming-to-terms will be every bit as painful. There will be low points but some sense of purpose will soon emerge and then focus on asking the right questions can be had."
Criminal charges against DoC officers had been considered after the Cave Creek incident, but they were not pursued after critical documents which concluded that serious systemic failures led to the deaths were allegedly misplaced after the inquiry.
Inquiry commissioner Graeme Noble said at the time it would be unfair to single out any one individual to be solely responsible for the tragedy.
Mr Cameron said: "In the Cave Creek case, we submitted to the commissioner that, plainly, 'systems' do not design themselves, install themselves, monitor themselves, break down by themselves.
"Therefore it was human act or omission that resulted in the calamity at Cave Creek and the commission was charged with identifying the particular human acts or omissions involved."
For Pike River, it was likely that criminal investigations were already under way and police would wait until the commission of inquiry finished before laying charges, Mr Cameron said.
A diligent inquiry was necessary to prevent history from repeating itself.
"Only then will the truth be laid bare."