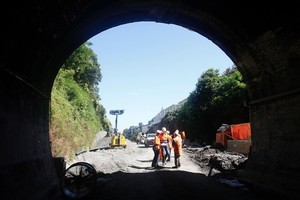 Auckland Council leaders say the Government should take seriously a report which predicts a $2 billion central city rail tunnel would pay for itself more than three times over.
Transport Minister Steven Joyce has queried the inclusion of what consultants call "transformational" benefits in terms of extra productivity and concentrated urban development to justify early construction of the 3.5km tunnel from the western end of Britomart to Mt Eden.
"I haven't seen that approach taken anywhere else," he told the Herald after Auckland Mayor Len Brown - who wants the tunnel built within seven years - announced business case findings from a $5 million study commissioned by KiwiRail and the former Auckland Regional Transport Authority.
A resulting benefit-to-cost calculation of $3.50 for every dollar spent on the tunnel eclipses a figure of $1.10 for the $1.65 billion highway which the Transport Agency hopes to start building between Puhoi and Wellsford in 2014.
That includes what are termed "wider economic benefits" from the highway as well as transport gains such as travel-time savings.
But designers are struggling with problems posed by difficult terrain north of Warkworth in ensuring the project breaks even.
Mr Joyce said an equivalent calculation for the rail tunnel, using the Transport Agency's standard evaluation procedure, put the tunnel on par with the highway with a 110 per cent return on investment.
But Auckland Council transport chairman Mike Lee said yesterday it made perfect sense that building an underground railway to unclog the roads of the country's largest business district should deliver a new level of economic benefits.
"This is the CBD of New Zealand Inc, not out in the boondocks," he said after the first meeting of his new committee, which endorsed the consultants' findings and called for Auckland Council chief executive Doug McKay to work with other agencies and the Government in pushing the project.
Committee member Wayne Walker said the economic benefits were based largely on taking cars off congested roads, whereasthe new highway would bring more traffic to Auckland.
Auckland Transport strategy and planning manager Peter Clark said that because the tunnel would run under New Zealand's most congested area, "we would expect it to have higher benefits."
He said documentation needed for KiwiRail to apply for a designation to protect the tunnel route from development would be ready next month but it was too early to approach landowners.
He could not say how many properties would be affected, except that they would be mainly near Britomart and Mt Eden, as most of the tunnel would be too deep to affect building foundations.
KiwiRail has struck a deal with retail giant Westfield to ensure foundations for a high-rise building at the Downtown shopping centre next to Britomart would be built out of the way of the tunnel. Mr Clark said an early designation was needed to prevent other developments jeopardising the project.
It was the Westfield proposal which spurred the previous government in 2008 into instructing KiwiRail to seek a designation for a tunnel route, more than 80 years after such a project was first mooted for Auckland.
Mr Clark said transformational benefits had been demonstrated in United States cities "so they are not hypothetical, they are things that have happened."