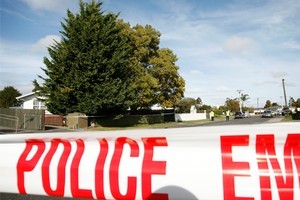 Ambulance and police officers have described coming across a murder scene where a mother of four lay dead on her toilet floor in a pool of her own blood.
Her toilet door was off one hinge and the window had been smashed from the inside.
Leanne Kingston's body lay on the linoleum floor with her boots off - one was found in the toilet bowl, the other behind the toilet - when she was found by her sister on August 10, last year.
Her estranged partner Cary Grant Thurgood has been accused of her murder and has pleaded not guilty at the Auckland High Court.
Detective Michelle Gillespie was one of the first on the scene and used a neighbour's ladder to look through the smashed toilet window at Ms Kingston's Papakura home.
"The window had been smashed from the inside because most of the glass was on the outside," she said.
Detective Matthew Stickland was the officer in charge of the scene. He said Ms Kingston's face had bruising to both cheeks and eyes.
There was also a large cut to her neck and broken skin on her face and chest.
Mr Stickland said there were indentations in the walls which police cut out and took as evidence. The portions of the wall were shown to the jury yesterday.
St John advanced paramedic Raymond Hirst had his evidence read to the court and told of arriving on the scene and meeting Ms Kingston's sister Lisa Whittle.
He said Mrs Whittle told him: "My sister is in there. She is dead in the toilet."
Inside Mr Hirst said he could see a large amount of clotted blood on the linoleum floor that had seeped into the hallway carpet.
Justice Mark Cooper told the jury that there were some "unpleasant photographs" in the Crown photo book.
"The technique we adopt is to close the booklet rather than dwelling on some of the nasty stuff," Justice Cooper said.
ESR forensic scientist Heidi Baker tested items of clothing found at Thurgood's home. Blood was found on the fly of a pair of jeans shorts and there was "extremely strong scientific support" that the blood came from Ms Kingston.
A jacket, track pants and gloves found in a skip at Thurgood's work place all tested positive for Ms Kingston's DNA.
Her colleague Diane Crenfeldt said there was evidence that someone had tried to clean blood off the walls of the scene when she arrived.
She said lines of cleaning product could be seen running through blood patterns on the toilet wall.
Crown prosecutor Kevin Glubb told the court in his opening address on Monday that Thurgood had originally blamed his son for the killing. Thurgood had told police that he had received a confession phone call from his son and had gone to Ms Kingston's to clean up and "save his son".
Thurgood pleaded guilty to a charge of attempting to pervert the course of justice on the first day of his trial.
His friend, John Moorby, has also been charged with attempting to pervert the course of justice after telling police he had also received a confession phone call from Thurgood's son. He has pleaded not guilty.
The trial has been set down for three weeks and up to 70 witnesses are due to be called.